Finding a Pony Club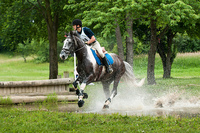 By Georgina
Most people who ride will have heard of the Pony Club, but many may not be aware of just how wide-ranging their activities are and how open the organisation is to everyone under the age of 21. Before joining it is useful to understand exactly what is on offer and how to ensure you choose the right branch for you.
Pony Club history
The organisation has a long history, starting in 1928 as a spin off from the adult organisation known as The Institute of the Horse. It grew rapidly and by 1934 had 8,350 members in 103 branches in the UK. Now, however, it has over 110,000 members in 15 European and 17 other countries.
The purpose of the Pony Club has always been threefold:
to encourage young people to ride and learn to enjoy all sports connected with horses
to instruct and educate these young people
to promote sportsmanship, citizenship, strength of character and self-discipline
Managed from a central office at Stoneleigh, there are 19 areas across the country and individual Pony Clubs within these areas, so you will never be far from a branch. However, you will need transport to get your pony to the rallies and meetings and will benefit most if you have your own pony or can borrow or share one.
However, recognising that more and more people are now riding without their own pony, the organisation has made some very big changes over recent years to become more inclusive.
Centre Membership scheme
To encourage non-pony owners to join, they established in 1998 a Centre Membership for those who ride at riding schools. There are now 600 of these centres across the country and children who join in this way can take part in all the many activities which the Pony Club offers. They can also ride alongside pony owners at national competitions with the riding school ponies.
There are very many such activities on offer - dressage, endurance, eventing, mounted games, polo, pony racing, show jumping, as well as polocross and tetrathlon.
The organisation also offers the chance to work towards numerous tests and achievement awards. Some of these are riding awards, some are related to skills in horse care and some are not horse related, though usually connected with the countryside, such as bird watching or map reading. They cater for all members, from the very youngest to those making a living from horses.
Finding a club
Finding a suitable club for you couldn't be easier. Simply go to the Pony Club website and you can type in your postcode to find either a branch or centre. It will then give you a list of suitable options, including the distance from your home if you are looking for a centre. Fill in an application form or better still ring and talk to the organiser.
The branches and centres do vary in their emphasis and you want to be sure that it is right for you and your pony. For example, you may not want to start straight in with polo, but you might like to have a go at polocross, which is suitable for anyone one on any type of pony.
Some centres may specialise in novice riders, others may cater for the more experienced. Ask about the spread of ages so you can be sure you will make some friends of the same age as you and find out what is on offer in the way of quizzes, rallies and camps.
Whatever you decide you will get the best of help, from friendly and encouraging people who are all volunteers, doing it 'for the love of it'. Visit The Pony Club website for more details.
Photo courtesy of Bob Haarmans
Articles