Competing in Horse Dressage – A Guide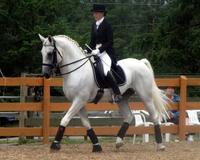 Horse Dressage Preparation
Horse dressage uses a combination of techniques for a horse competition. It can be compared to gymnastics and ballet due to its similar employment of athletics, grace and precision. Competing in horse dressage has been an Olympic event since 1912. For more advice on horse competition and competing in horse dressage, see below.


Horse Competition
First, make sure you have chosen the best horse you can to compete. All breeds can be used, but larger thoroughbreds and warmbloods are more suitable.


Competing in Horse Dressage
In horse dressage the rider and horse are expected to perform a number of different figures and movements. The chosen horse should be supple on either side and be extremely responsive.


The three main dressage exercises are:
• Figures – eg. Circles and serpentines.
• Movements – the lateral movement of a horse.
• Transitions – the changes between gaits and how the horse handles this.


Horse Dressage - Practice
Take your horse into an arena that is standard sized (usually 20m by 60m). Imagine there are large letter markings on the railings which are used as performance targets.

When you start, enter the arena and go down the centre line and stop right in the middle. At this point you would salute the judge and start with a pattern. Once you have finished your pattern you will go back to the original position on the line, and salute your judge again.



Scores
A judge will give you their score based on how perfect they consider your movements or figures to be. If you have achieved a move that is known to be tricky your score will be higher.

As well as the expectations of perfect executions, your horse and you will be judged on how you behave together, including the obedience of the horse and his ability to stop when needed. You as a rider will be judged on your balancing, positioning and overall effectiveness.


Extra Tip
Remember to ensure that you are wearing the appropriate horse dressage attire, and that the tack and equipment used is right for the horse competition.


Articles