British Eventing 2011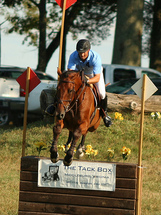 By Georgina
Since the first eventing competition in 1949 at Badminton, Great Britain has been the most successful nation in the world, winning 260 medals in Olympic, World and European events.
The growth and success of the sport has in no small measure been due to the governing body, British Eventing (BE), who in 2011 will have regulated more than 180 affiliated events, 10,000 horses and 11,000 members.
Much of the success comes from the number of competitions available at every level from grass roots to international, which ensures riders and horses have access to a progressive training structure. This too has meant that a lot of overseas riders have chosen to base themselves in Britain, to take advantage of this, especially in the run up to the London Olympic Games in 2012.
Obviously a lot of focus during 2011 is on the team for the 2012 Olympics and the European Championships in August 2011 proved a testing time for potential squad members.
Polly Stockton had to withdraw Regulus before the competition as he was unlevel and Mary King and William Fox-Pitt had incident packed rounds which saw Mary unseated and William defy gravity on two occasions to cling on. However, with Nicola Wilson and Opposition Buzz, they finally finished in Bronze team position, behind Germany and France.
Developing young talent
One of the sport's greatest strengths and something which British Eventing work very hard to promote, is the development of young talent, looking to the senior squad of the future. They were therefore very pleased to see the GB Junior Squad take both team and individual gold at the Junior European Championships this year.
In 2011, 20% of the total membership is under 20% and the new under-18 Regional Programme and Training scheme launched in 2010 has proved enormously successful. The new scheme saw eight regions established throughout the country, each with two coaches, so everyone should be able to access top class and discipline specific training and help. For younger riders there is access to top class events from the BE Pony Club classes and the National Inter-Schools Series.
Great Britain is justifiably proud of their success in this sport and will be looking to add to the tally next year. However, for every rider at whatever level, the event season of March to October offers the opportunity to experience the thrill of cross country, the precision of show jumping and the technicality of dressage, at well run and safely designed events, courtesy of British Eventing.
Photo courtesy of kchurch05
Articles