British dressage training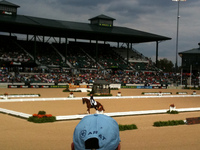 by Georgina
The equine sport of dressage has grown over the past 10 years from a minority sport to one enjoyed and participated in by all levels of riders from novice to International standard. It isn't always easy to find a teacher or trainer to help you progress in your skill, after all, the best riders are not necessarily the best people at passing over those skills to others. Couple this with the unarguable fact that as a novice you "don't know what you don't know" and choosing a trainer can be a really difficult task.
British Dressage has been mindful of this and have set up an extensive system to help.
Eight Regional Development Officers across the country aim, amongst their other duties, to ensure affordable, top class training is available for everyone at all levels. Using approved trainers they organise training days and clinics throughout the year at costs which are usually much lower than private lessons would be. They are also organised for young riders as well as adults. In order to take advantage, simply log onto the British Dressage website and look at your regional page.
You might like to go a different route and look for a trainer who will work with you regularly. Again, British Dressage can help here. Their Trainers´ Database lists trainers by county and gives a lot of detail for each trainer as to what they have achieved themselves, what facilities they offer in terms of schools, whether they will travel to you and whether they specialise, perhaps in juniors.
All these trainers have first aid qualifications, public liability insurance and have a strict BD code of conduct to abide by. As a result a lot of the risk is taken out of finding someone to help you.
British Dressage also do a lot of work training the trainers themselves and a lot of these events are open to everyone, which is an excellent way to increase your knowledge. As well as Trainers' Forums, they run a National Convention each year for 2 days, with the top International names passing on their skill and again this is open to everyone at very reasonable costs. A more recent innovation has been an annual Sports Science Seminar for those interested in wider issues of training than just the riding.
Finally, until recently there has been structured training scheme for those wishing to pursue a career in dressage. The British Dressage Apprenticeship Scheme offers the chance to take up an apprenticeship with an approved trainer, many of whom are the best known names in dressage.
At whatever level we ride, training and education is essential if we are to progress and a first call for everyone serious about this should be the British Dressage website, where there is a wealth of information to help you.
Photo: Phil Denton
Articles