A beginner's guide to British Dressage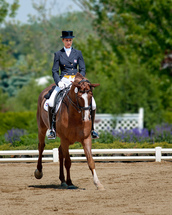 It doesn't matter what level we are riding at, we have all had that wonderful daydream, standing at the top of the line-up, receiving a winner´s rosette, or leading the victory ride around the arena. If you are a member of British Dressage (BD), you can take advantage of one of the 10,000 affiliated classes, which take place each year across the whole country and maybe achieve this in reality.
This aspect of British Dressage is probably the best known of their work and provides an invaluable service for every serious dressage rider. Affiliated competitions have to meet certain strict guidelines. The venue facilities must be of a high standard, so you know you will be riding on a good, safe surface. The level of judging will also be consistent as the judge will be an accredited BD judge, competent to judge at that level.
Competitions run from Preliminary, right through to Grand Prix. The majority of venues only offer classes to Medium on a regular basis and all the classes which are designated qualifiers, culminate in National championships.
Points system
Initially, points were gained on the basis of placings from 1st to 6th, but now points are gained for levels from Novice upwards, for scores above 60%. This system ensures fairness as levels of competition can be higher in some areas and at some venues. It also encourages competitors to view their own personal progress as the most important aspect of competing.
Entry fees may be as high as £20 per class - occasionally more - so it is important to choose classes carefully. Classes are divided into those for Open riders and those for Restricted riders, though there is nothing to stop a Restricted rider from entering an Open class. Schedules should be carefully scrutinised too, to see whether classes are qualifiers.
If you want to 'have a go' without the full cost of registering both yourself and your horse, you can purchase a day ticket to enter a competition. This is an excellent way to see what level you are achieving.
If you are confident that you are doing yourself and your horse justice at the level you are working at, you may like to have a try to achieve a place on one of the inter-regional teams or maybe on the British young riders (BYRD) team.
Whether you just try out or actually achieve a place, it will give you an enormous amount of experience and access to top level training and help.
For more detail on all this and more, take a look at the excellent and comprehensive British Dressage website.
Competing in Horse Dressage
In horse dressage the rider and horse are expected to perform a number of different figures and movements. The chosen horse should be supple on either side and be extremely responsive.
The three main dressage exercises are:
Figures – eg. Circles and serpentines

Movements – the lateral movement of a horse

Transitions – the changes between gaits and how the horse handles this.
Horse Dressage - Practice
Take your horse into an arena that is standard sized (usually 20m by 60m). Imagine there are large letter markings on the railings which are used as performance targets.
When you start, enter the arena and go down the centre line and stop right in the middle. At this point you would salute the judge and start with a pattern. Once you have finished your pattern you will go back to the original position on the line, and salute your judge again.
Extra Tip
Remember to ensure that you are wearing the appropriate horse dressage attire, and that the tack and equipment used is right for the horse competition.
Articles