How to keep a healthy gut - Brinicombe Equine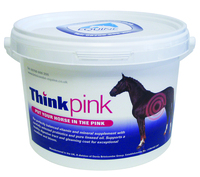 During the harsh winter months accessibility to good quality grazing is reduced, as after the last flush in the autumn the rate of grass growth starts to decline and eventually ceases as the days get colder. This places extra nutritional demands on the horse's body so supporting them with a supplement really helps to ensure that essential daily nutritional requirements are met. Supplements also play a very important factor in the management of some common problems faced during the winter time such as mud fever, poor hoof condition, respiratory stress and weight loss particularly for the more senior horse.
An essential part of keeping your horse's digestive system healthy is making sure they consume at least 1.5% of bodyweight as fibre per day. During the winter we meet this by adding hay/haylage to the horse's diet, the nutritional value of forage can vary according to the conditions and stage at which it was cut and often means that the diet is likely to be deficient in important vitamins and minerals.
This is where feed balancers come in which have become more and more popular in equine diets in recent years. Concentrated feed balancers like Brinicombe Equine's Think Pink ensure that the nutrient content of the diet is balanced at the same time as helping horses to get the most out of their feed, particularly when feeding less than the recommended dose of compound feeds or balancing a fibre based feed.
The yeast found in Brinicombe Equine's Think Pink is Saccharomyces cerevisiae (Yeast-Ex) which has EU authorisation for use as a digestibility enhancer for horses. The yeast stimulates the growth of celluloytic bacteria populations in a horse's hind gut microflora leading to better feed utilisation and hence improved weight gain, performance and general well-being. Think Pink is suitable for all horses, especially over the winter months when it can help promote condition, health and vitality without the need to increase feed.
Many owners will be starting to make changes to their horse's diet to make sure they have the correct nutritional support for the winter time, during this transitional period it is important to ensure that any changes are made gradually to avoid digestive upset. If you are unsure of what to feed your horse this winter then you can contact Brinicombe Equine's Equi Clinic on 08700 606206, visit www.brinicombe-equine.co.uk or email in your enquiry to [email protected]
Think Pink is available in 2kg tubs which will last a 500kg horse for up to 40 days. RRP £12.99. A larger even more economical 10kg tub is available which will last a 500kg horse for up to 200 days. RRP £52.95.
For further information on Think Pink and other products in the Brinicombe Equine range please visit www.brinicombe-equine.co.uk
Articles