Equine Salmonella Symptoms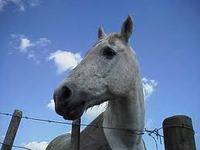 Salmonella in Horses
Horse health
issues like salmonella come about through food that has been contaminated or not stored properly. This condition causes intestinal pain and can require a visit to the equine vet. It can worsen and become toxic to the organs. This guide details the symptoms to expect from salmonella so that you can take the appropriate horse care action.
Fever
The signs of this equine condition varies, however normally, a fever is common. The horse body temperature will rise above average.
Diarrhoea
Diarrhoea is a horse health issue that results from salmonella when the bacteria settles in the intestines. The faeces will be very watery and can smell quite strong. The horse will appear very uncomfortable when defecating and will often move his tail around a lot. He will more than likely move about a lot in the attempt to feel comfortable.
Habits
Despite changing habits possibly being caused by a whole range of illnesses, it is also a sign of salmonella. Horses with this illness will normally become depressed and will display very low energy levels. He will probably refuse to eat, even passing up treats.
Remember, if you are in any doubt, it is always best to contact your equine vet for the best advice on horse care.
Articles