Equine Complementary Therapy Guide: Chiropractic Care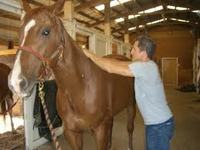 Today, horse health can be maintained and treated with a number of different techniques. Complementary therapy is an ever-growing choice for many equine enthusiasts. Chiropractic horse care is no exception to this, with a constantly increasing demand. Find out more about this equine therapy in the following guide.
For athletic horses in particular, chiropractic complementary therapy is useful in reducing pain from the neck and back in particular. Nerve damage also responds well to this equine therapy.
Another way that this horse care treatment is used is for examinations before purchase. It's a great way of identifying whether a horse has chronic neck and back problems.
The chiropractic procedure begins with an examination of case history and is followed by:
•

Orthopaedic/neurological examination
The chiropractor needs to find out about any history with lameness, stiffness, lack of power, bad attitude or cold back, among other symptoms. Anything unusual regarding posture or movement is noted by the chiropractor, such as short stride, stumbling, toe grab or weakness. The range of motion in the vertebral joints is assessed in motion palpation.
This type of horse care is beneficial to both horses and their owners. It allows for a unique perspective to be given on horse health. It is quite rare to find a vet who is trained in this discipline, so you may need to find separate professionals.
Articles