Youngest equestrian Olympian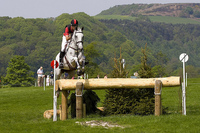 Alex Hua Tian was 18 when he competed in the Beijing Olympics in the eventing team for China, making him the youngest rider participating. Coming into the 2008 Olympics he was ranked 21st in the world in the FEI standings.
Unfortunately he fell off his horse during the cross country phase, which automatically ruled him out of any further participation in the Olympic three day event. He was riding a grey gelding called FBW Chico, who stumbled when he clipped a fence. Hua Tian lost his balance and somersaulted over his horse.
He was obviously frustrated and very annoyed at his fall. Both were unhurt, but new safety regulations brought in for the Olympic Games meant if the rider or the horse falls they are automatically disqualified.
In a press report Hua Tian said he was sorry for letting everyone down, and hopefully in London 2012 he would be more experienced and have a better chance.
Hua Tian is the son of a Chinese father and English mother. He was born in Hong Kong when it was a British colony and rode his first horse at the age of four in Beijing. Ironically, Hua Tian's big break came after he took up lessons in the UK with Clayton and Lucinda Fredericks, who were both in the Australian Olympic eventing team in 2008.
Hua Tian's quest for Olympic glory is being sponsored by a Chinese property developer named Jiang Fengcan, a rarity in a country where most sports are sponsored and trained by the state.
Another young hopeful for the 2012 Olympics is the Brazilian Luisa Almeida, who was 16 when she competed as an individual in dressage at the Beijing Olympics. It is a dream of Luisa's to compete in the Olympics and despite failing to advance further than the first round in Beijing she said the experience was very satisfying and educational.
So as yet we do not know who will be the youngest Olympic equestrian in 2012.
Photo: Alex Hua Tian on ESB Irish Fiddle at the Chatsworth International Horse Trials 2008 by Smudge 9000

Browse our horses for sale or place an ad on Horsemart now.
Articles