William Funnell Rider Profile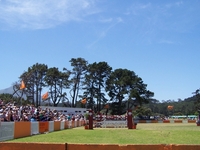 By Caroline Wood
William Funnell was born 10 February 1966 in Ashford, Kent into a farming and hunting family - William's father being a master of the Tickham hunt. William, who is well known as an international show jumper, is married to Pippa Funnell who is a well known event rider. They live in Ockley in Surrey. William won the famous Hickstead Derby for the first time in 2006 since his first attempt at the age of 17 and then went on to win it again two years later in 2008. He has then gone on to join the elite ranks of three time Hickstead Derby winners, adding the 2009 championship to his wins on Cortaflex Mondriaan. Last to go in the international arena, they achieved the only clear round of the day and the first clear round in five years.

William also won the famous Derby of La Baule (France) in 2011. William is a world renowned show jumping rider of over 20 years experience at the top of his sport. He has won 20 international titles and has represented his country all over the world at the highest levels. He has represented Great Britain on 27 different occasions, including 2 European Championships and has won over 50 international competitions.
He currently rides Cortaflex Amber Du Montos, Cortaflex Machiavelli II and Cortaflex Mondriaan. In addition to competing, William has developed a successful production programme of young homebred horses in his yard near Ewhurst in Surrey. In conjunction with the Billy Stud and the support of a dedicated team they produce in excess of 40 foals a year from their own mares.

A key part of the Funnel philosophy for bringing on horses is to let them develop naturally and to this end there are some 20 acres of paddocks for turnout. Where possible the young horses live out to promote natural bone and muscle growth.

Each horse is exercised or ridden on a daily basis and in addition to William there are two full time riders who help train and exercise the horses. There is a large 60 x 60 composite arena which ensures that even in winter the horses can be exercised.

All the horses undergo similar work at an early age and are not streamed into eventers or show jumpers until much later. William takes charge of those destined for show jumping and Pippa manages the development of those that seem to have the talent for eventing.
Articles