Top Show Jumping Events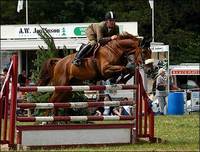 Equestrian Jumping Events
Affiliated show jumping within the UK is regulated and promoted by the BSJA (British Show Jumping Association). Of course there are thousands of unaffiliated classes and competitions every year throughout the country as well, but anyone serious about their sport, or wanting to get the best out of themselves and their horse or pony, will need to join the BSJA.
The organisation doesn't just look after elite riders, though of course managing National teams and preparing for the 2012 Olympics is part of their important work. Crucially, the BSJA work to help and promote show jumping for riders of all ages and all abilities.
Their events start with competitions for adults at British Novice (0.90 m), Discovery (1.00 m) Newcomers (1.10m) and Foxhunter (1.20m). Riding in these first level competitions will ensure that you have a course which has been properly designed and is not dangerous and that the facilities and surfaces are safe too.
If you are able to progress, the fences get higher and wider and the events are categorised by the horse's winnings. At the top a Grade A horse has won over £2,000, a Grade B £1,000 - £1,999 and a Grade C up to £999.
A similar ranking exists for ponies, to ensure fairness between competitors. JA ponies have won over £700, JC ponies £100 - £699 and JD up to £99.
As well as the thousands of competitions taking place throughout the year, the BSJA organise many series which culminate in Championships. At the top end these include ones like the International Stairway series and the Winter Grand Prix, but there is plenty for all levels of riders – Winter B and C Championships, Winter Novice Championships and National Amateur Championships for example.
Children and juniors are well supported as well and in all the competitions care is taken to ensure that riders do not compete in classes which are below their level of experience and previous success, so everyone has a chance.
The country is divided into 9 regions and each provides training and clinics for all levels as well as regional competitions. Again, young riders are encouraged and supported with Pony Proficiency and Junior Academy schemes.
If you are a young star of the future you will probably be aiming for the Pony of the Year Scholarship, available to winners of Grand Prix classes at the Pony of the Year Show. However, if you are a grass roots rider or working to improve a less expensively bred pony, you will also find lots of help by logging onto the regional pages of the BSJA website. In fact for anyone wanting to progress beyond local competitions, this should be their first step. There are truly show jumping events for everyone at every level and qualified instructors ready to help and the BSJA will keep you well informed.
Like all sports, there are a number of show jumping events that every rider interested in horse jumping wants to compete in and to win. These equestrian jumping events are known worldwide and are the pinnacle of the sport. Of course, to compete in the top show jumping competitions require years of practice and plenty of talent but read on to find out more about some of the top events for show jumping. Here are a few of the top events in the sport...
Show Jumping World Championships
One of the most important equestrian jumping contests takes place as part of the FEI World Equestrian Games. The show jumping world championships have take place since 1953 and has been won by all the best horse jumping competitors over the years. These equestrian jumping competitions take place every four years and the 2010 World Show Jumping Championships is part of the FEI World Equestrian Games in Kentucky, USA in September and October.
British Open Show Jumping Championships
The British Open Show Jumping Championships are one of the premier equestrian jumping competitions in the UK. These horse jumping competitions take place in spring of each year and feature some of the best riders in the world alongside the top 10 British show jumping competitors. These show jumping competitions last for three days and give out over £150k in prize money.
The Olympics
The Olympics are the most famous sporting competition in the world and show jumping has been part of these competitions since 1900 and appeared in its current form in 1912. The Olympic gold medal is probably the biggest prize in all sporting competitions and show jumping is no different. Equestrian jumping rules at the Olympics state that the horse and the rider must be the same nationality and the horse must be at least 7 years old. The show jumping horse and rider are considered a team in Olympics equestrian jumping competitions.
Articles