Tips on Overcoming a Fear of Horse Riding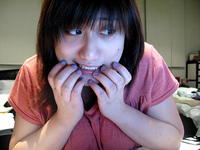 If you dream of one day riding across the countryside on a horse but feel frightened at the prospect of losing control, the advice below may help you to conquer your fears.
For many people, the dream of riding freely across green countryside is tempered by the fear of losing control of a horse galloping at full speed and succumbing to a painful riding injury. While the prospect of mounting a horse can be a scary prospect for any inexperienced rider, there are steps you can take to conquer any fears you may have of the horseback riding process.

Horse Riding Fears and How to Combat Them

Sometimes, even the most experienced of riders can experience a dramatic loss of confidence after a nasty fall or accident. It doesn't matter how long a history you have with riding, bouncing back after the frightening experience of a riding accident can be a lengthy process. Therefore it's important to confront the phobia and decide whether you really have the determination to fight it.

• Don't be ashamed of your trepidation to return to horse riding again. It's only natural to harbour doubts over whether you want to be exposed to the pain and trauma that a riding accident can cause in future. Therefore, once you return to full fitness, ask yourself whether you can handle both the physical and mental challenges that come with riding a horse. If you are crippled with nerves even at the thought of riding again, don't feel pressured to rush back into the sport. Taking an extended break may help you to refocus your energies and you can always renew your interest in riding later down the line once you feel ready to try it again.



• As with the advice above, don't feel ashamed to ask for assistance during your first few sessions. Confidence may take time to return, especially if you are riding alone with your horse, so riding with a friend or trainer may help you to relax back into the riding process, releasing any tension you may be feeling as the horse builds up speed.



• Small steps are better than long training sessions in the early stages. Rebuilding your confidence one step at a time will help you to think more about certain aspects of your riding techniques and slowly boost your feelings towards horseback riding.



• Consider alternative techniques of training. Although you might want to block the accident out of your mind, try and consider the probable cause. Rider error is not always the leading cause of accidents – sometimes a horse can become easily spooked. If this is the case, this may mean your horse needs more discipline and training to build its own confidence. Intensive training will result in safer horse riding – leaving you more assured about your own abilities to keep control when riding over difficult terrain.



• Discuss your fears with other riders – it's more than likely that a majority of them have had similar anxiety issues after an accident, so their advice could prove invaluable in inspiring you to re-engage with the hobby.



• Take the rough with the smooth. Some days, battling your fears will be harder than others, so don't let minor problems knock your confidence back to square one. Don't leave too long a gap between riding as any confidence developed at the previous session may become a distant memory the next time you ride. Horse riding fears can only be conquered with a lot of hard work and dedication.

Articles