Stables: How to Choose a Horse Stable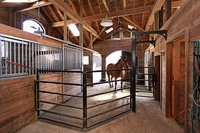 Choosing a Horse Stable
If you have decided to learn how to ride a horse or want to start your child in riding lessons then you will need to choose a horse stable. It is essential that you do some research before you choose a horse stable to ride at. It is very important, especially if the lessons are for your child, that the stables are friendly and safe. This article will teach you a little bit about what you do and don't want to see at horse stables.
Horse stables should be happy places with healthy horses; you should never choose a stable whose horses look unwell or appear undernourished. A good way of finding out the stables that have healthy and well cared for horses are to ask your local equine vet. An equine vet will be able to give you some references of what he/she thinks about local stables.
Another good way of finding the best horse stables is to ask in tack shops; remember that people talk and bad news spreads fast. People who work and specialise in equestrian fields will be able to refer you to a riding stable with an excellent reputation.
Once you have been recommended a few good stables then you should give them a call and ask to arrange a visit. When you are taking a tour of the stable pay particular attention to how clean the area is, the horse stalls in the stable should always be clean and hazard free.
If you want to have lessons at the stable then you should watch the instructor take a lesson. All riders should be wearing helmets and watch closely at how the instructor interacts with the students. Just as important as observing the instructor is watching the horses and how they behave. It is important, particularly if your child is taking the lesson, that the horses are well mannered and healthy.
Articles