Stables: Building Horse Riding Stables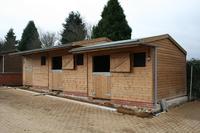 Building a Horse Stable
Horse riding stables will be needed if you plan on keeping a horse on your property. Horse stables are required to house a horse properly. When caring for a horse, it is vital that the horse stable is built to be good home. If you are not too experienced in construction, it is advisable to work with someone who is. Building a stable is a big job and needs the correct expertise in order to be done to a high standard. For a guide to building horse riding stables, see the following.


Planning
You may be required to notify the council of your horse stable building plans. Ensure that you fill out all the necessary forms and obtain the correct permission to build first.


Size and Space
First, decide on the size you want your stable to be. In general, horses will need an average stall that is 12 feet by 12 feet for their comfort. Room for hay storage will need to be added onto this, as well as space for a feeding stall. Other areas to consider include:
• Equipment storage space
• Grooming and washing area
• Windows and door locations
• Water and electricity points
• Running paddock outside the stable


Materials
Choose what building materials you will use for your horse stable. Wood is the most common choice, with stone or steel as framework support. Do not use cedar wood though, as horses find the oils in it irresistible and they will chew on it.


Power
Consider what electricity requirements your horse stable will have. All wiring should be sheathed in the right metal conduits so that mice cannot gnaw at it. Make sure you meet all the local health and safety standards. Remember, fires can develop extremely quickly in horse stables because of all the hay.


Water
Water is highly important in horse riding stables. It is used for horses to drink and for the stable to be cleaned out. Good water storage and flow is essential, but so is drainage. You must make sure that the products you use can be washed away from horse stables safely.


Roof
Metal is usually used for the roofs of horse stables. This is because they are durable and simple to install. Metal may not be appropriate for all situations though. Remember to provide sufficient ventilation in the roof and install insulation if need be.


Articles