Sport Horses: Holsteiner Horses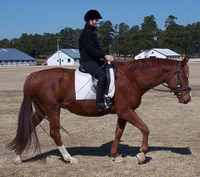 If you're searching for a sport horse, the Holsteiner breed might appeal. Learn about these sports horses in this guide.
If you're considering whether to buy a sport horse, naturally several breeds will come to mind, which can cause your search to turn into one big dilemma; even experienced horse owners can sometimes find it difficult to determine whether an individual horse is cut out for sporting competition.

However, one sports horse breed that is consistently reliable when it comes to equestrian competition is the Holsteiner. Originating from Northern Germany, the Holsteiner breed is thought to be the oldest of all the Warmblood breeds, with origins dating as far back as the 13th century.

A relatively small breed, those lucky enough to find Holsteiner sports horses for sale will benefit from a truly versatile companion, as the guide below explains.


Sports Horses For Sale: Holsteiner Breed Guide

Holsteiner horses have been dominant in several equestrian disciplines for a number of years. Primarily grey or bay in colour, the talent of the Holsteiner breed spreads far and wide, excelling in sports including show jumping, dressage, combined driving and eventing.

The average Holsteiner horse for sale will possess an excellent all round conformation, including an arched, high-set neck; powerful hindquarters and muscular upper body. In terms of the height, Holsteiner sport horses for sale reach an average height of around 16-17 hands high.

Holsteiner sports horses have a fascinating history, and as with many Warmblood breeds have been developed and refined over the last century to encourage sporting excellent. Originally used for agriculture, the post war demand for more athletic horses marked a significant change of direction in terms of the development of the breed.

Finally, novice riders should approach the prospect of taking on Holsteiner sport horses for sale with caution. Experienced riders should be able to smooth out any behavioural quirks, but first time owners may find the Holsteiner horse a real challenge, as some individuals can be lazy and stubborn whilst others can be easily spooked. As soon as you can overcome these problems, however, you should benefit from a horse with plenty of sporting promise.

Find sports horses for sale on Horsemart
Articles