Sport Horses: Austrian Warmbloods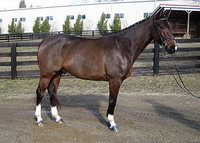 Learn about Austrian Warmblood sport horses in this guide, packed with useful information for those looking for sports horses for sale.
The Austrian Warmblood sport horse is one of the most talented of all the worldwide Warmblood breeds. Descending from a number of different Austrian cavalry horses, this courageous, sporty breed excels across several equestrian disciplines including competitive dressage and showjumping.

Many other horse enthusiasts, however, decide to take on Austrian Warmblood sport horses for sale purely as a result of their versatility as everyday leisure riding sport horses.

Controlled under strict supervision by the AWO, the Austrian Warmblood has many traits that make it the ideal choice for most horse riding enthusiasts – you can learn a little more about the benefits of buying these sports horses for sale in the guide below.


Sports Horses For Sale: Austrian Warmbloods

Performance and sporting potential are the major goals of the Austrian Warmblood breed registry. Bred primarily for major equestrian sports requiring finesse such as dressage and showjumping, Austrian Warmblood performance horses should live up to the following criteria:

"Desirable is a noble, long-lined, correct and powerful Warmblood horse with good movement and jumping ability, suited to any type of recreational riding.

"The breeding aim shall be achieved through a comprehensive system of performance tests for mares and stallions, leading to improved selection for dressage or jumping qualities. Of great importance for the Austrian Warmblood breeders are rideability, good character, willingness, and balanced temperament."

Breed standards dictate that Austrian Warmblood sports horses for sale should measure at least 15.2hh at the withers, whilst all colourings and markings are accepted. However, due to long term breeding, the majority of these sport horses for sale will be a solid colour – usually black, brown, bay, chestnut or grey.

The breeding population of Austrian Warmblood sports horses is fairly small, so you may find it tricky to locate one of these initially, but if you do manage to find one for sale in the UK, these horses have bags of potential when it comes to sporting competition.

Find sport horses for sale on Horsemart
Articles