Pony Club volunteering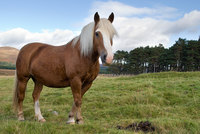 By Matt Molloy
The Pony Club, established 1929, is now a large scale organisation educating youngsters in the humane treatment of horses, as well as nurturing a love for use of the animals in sports and recreation.

The Club accepts members in an average age range of seven to twenty-one years old and primarily exists to present young people with means to gain experience in riding and working with horses, even if they would not normally have the means to do so.

To achieve this aim, the Pony Club requires a huge number of volunteers. At present, the Club has some 20,000 volunteer workers who take on an expansive and diverse range of tasks. The specifics of Pony Club volunteering vary depending on whether a volunteer applies to a Pony Club Branch or Pony Club Centre.

Pony Club Branches are run by volunteers and each Branch has its own Committee. Branches typically require more volunteers than the other division of the Club. Volunteers are often expected to attend to on-site tasks, such as constructing show jumps and may also participate in more demanding and high responsibility roles over time. These may include acting as Rules Steward at a horse show, a task which involves maintaining that rules of competition are not violated. Stewards are trained both in the field and in specialised classes. Some exams also may be given. Such an important job requires a license, considerable knowledge and honest ethical judgement.

Branch volunteers may also become members of the Committee, and assist in making important decisions which affect the local Branch and community.

Centres typically need fewer volunteers as they are often run as organised open classes with commercially managed land and stables. However, volunteers are often welcome to help out supervising trips.

There are many benefits to volunteering with the Pony Club. Not only do volunteers gain practical experience with horses, but they will be able to enter a range of educational programmes and learn skills that are very useful to future employers. Volunteer work can be noted on a CV and participants also establish useful contacts and often make new friends. The tasks undertaken can give a sense of challenge and fulfillment and also help prepare youngsters for the responsibilities they will have in the working world.

In addition to the standard volunteer duties, the Pony Club also requires volunteers on occasion for special events, such as the Pony Club Championships. These duties cover a wide range of equestrian activities, from Dressage Judges to Stewards for Musical Riding.

The easiest way to volunteer is to simply approach the nearest Pony Club Branch (or, alternatively, Centre) and speak directly to a representative.
Articles