Ponies For Sale: Welsh Section C Pony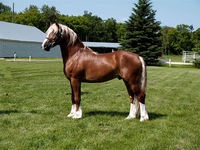 If you're interested in Welsh ponies for sale, you may want to find out a little more about the Welsh Section C pony. Learn about this type of Welsh pony in this guide.
Searching the marketplace for Welsh ponies for sale?

If you are looking into the potential acquisition of a Welsh pony for sale should try to bear in mind that Welsh pony types are designated into individual 'sections' that relating to shape and size as well as usage.

The Welsh Section C pony often goes by the alternative name as the 'Welsh Pony of Cob Type', and as the name suggests, Welsh ponies from this section have a number of characteristics that resemble the cob horse type.

Learn a little more about these Welsh ponies for sale in the guide below.


Welsh Pony For Sale: Welsh Section C Pony

Breed registries dictate that the Welsh Section C should never reach a height in excess of 13.2hh, unlike the Sec D, which has no upper height limit for ponies for sale classified in this section.

The Welsh Section C pony differs significantly from the traditional Welsh Mountain pony (Sec A) as it is more compact, thus resembling the standard cob horse.

Welsh Section C ponies are surprisingly powerful for their size, and have inherited the hardiness and intelligence of the Welsh mountain pony. The Section B was first developed by crossbreeding that pony with the Welsh cob (Sec D).

In terms of colouring, the breed registry allows for any colours with the exception of piebald and skewbald. Individuals in the Section C family have been developed to exhibit a muscular back, strong legs and a free-flowing movement that makes them exceptionally well-suited to jumping. Brave and intelligent, the trainability factor also adds further appeal for anybody looking to buy this form of Welsh pony.

These ponies for sale are a popular choice for many equestrian enthusiasts as they can compete to a high standard in sports such as show jumping, harness and in competitive driving.


Find Welsh Section C ponies for sale on Horsemart
Articles