Ponies for Sale - Dartmoor Pony Guide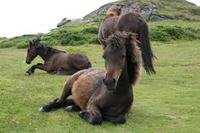 Dartmoor Ponies Info
The Dartmoor pony for sale is centuries old and originates from the south west of England. Used for many different purposes, these ponies for sale are extremely hardy and have great stamina. Based in Devon, this breed has declined in numbers over the last 80 or so years.
Horses and Ponies – History
In medieval times, the Dartmoor pony was used for carrying tin in heavy loads from the mines. With the closure of the mines, these ponies were used for farming, with many being turned out on the moor. Now with Rare Breed Status, the number of foals being born is trying to increase. Despite mainly being based in Britain, they can also be found elsewhere in the world.
Pony for Sale – Use Today
Dartmoor ponies for sale are ideal for children to ride, but they can also carrying adults. Their good movement and natural jumping makes them some of the best for showing, jumping and driving among horses and ponies.
Appearance and Character
•

Height: 11.1hh to 12.2hh
•

Colours: bay, black, grey, chestnut, roan
•

Strong hindquarters and loins
Articles