Livery yard vs sole use - what suits you and your horse?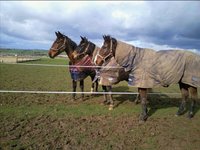 By Nicola Strong
What are the differences between livery yards and sole use and what are the pros and cons of both, Horsemart reader and blogger Nicola Strong shares her thoughts.
After years of keeping my horses on a yard that was either sole use, or shared with 1 other, the thought of moving to a new yard with 21 other liveries was pretty daunting! A few months on, here are my thoughts on how the 2 options compare...

Is spending time with your horses 'me' time? Do you like to be able to come and go as you please, without interference? Are you independent and self sufficient? If so, sole or shared use with one other could be for you.

Hacking alone is something all my horses have never had a choice about; it was either that or nothing much of the time! Some people have horses who won't hack alone, and some riders also won't entertain the idea. For me it's always been the norm; just something that goes with the territory when you have sole use – unless of course you have a hacking buddy close by.

Generally speaking, when you have sole use it will be up to you to source your own hay, and it can be tricky to find space to store it. Of course this will vary from place to place, but I would be very reluctant to take a place on now that didn't have space to store enough hay for the winter; poor hay crops of recent years can mean that the prices rocket and demand is high post Christmas, so you don't want to be caught short. The downside is, of course, buying in bulk is a big hit for your bank account to take!

Maintenance is usually down to you too; be prepared to keep your fields ragwort free, and your fences in good repair – although in 2 out of 3 sole use places I've been, the owners have chain harrowed and rolled the fields themselves. You may need to check with the yard owner who has responsibility for muck heap removal.

I've never been to a sole use place with a toilet or tea and coffee making facilities yet, so if you're precious about your creature comforts this may not be your best option! On the plus side, in my experience life can be very simple! You have nobody to please but yourself; you can come and go when you like, if you have an arena you can use it as and when you like, nobody will borrow your boots and forget to return them, and nobody will judge your riding or horsecare choices.

A busy livery yard is a completely different kettle of fish; each will have their own set of rules, some more stringent than others. When looking around I found that some expected you to bring your horse in at a specific time, and if you didn't, they would do it for you – at your expense. For an office worker like me, this was not an option; I wanted to have the choice so I ruled that out.

Having to book the arena takes some getting used to, as does ordering hay. Neither are particularly taxing, it's just a case of having to remember! Most livery yards have their own hay either made on site or bought in, so you will never have to worry about buying in bulk again.

In terms of creature comforts, I now have toilets and tea/coffee making facilities at the yard, and secure storage for literally everything. The muck is loaded directly on a trailer which is taken away very regularly, and if I'm not going to make it there one day, or have booked a holiday, I can ask the yard owner or one of the other liveries to help out.

One thing I was really concerned about was bitching; I've heard many horror stories over the years about yard politics and people being bullied, and as far as I'm concerned, when I go to my horses I'm there because it's my downtime, and I wouldn't want anyone making it awkward or difficult. Whilst it's still early days, I'm pleased to report that I've not experienced any of this and we don't seem to have that ethos that some other can do – but it is a factor to consider.

Vets and farriers are a bit easier as you tend to be able to book in together. Shared callout fees? Hurrah! The flip side is that if you're calling the vet out for one horse, it's likely that you may need to for another; for instance if one horse picks up a virus, before you know it the whole yard is affected.

Hacking alone is still a regular thing, but it's also nice to have company sometimes – likewise sharing transport to competitions, and finding the motivation to school when it's peeing it down because there are two of you!

There are so many variables to consider that it's impossible to say one is better than the other; what makes such a difference is the yard owners, other liveries, and the level of facilities you have access to. More importantly I think that you need to find what best fits you and your horses. If I was looking to move I certainly wouldn't rule either option out without exploring further.

If like me you're pretty easy going, both options have appeal. The independent side of me loves to come and go as I please, and have some quiet time where there's not a soul around but me and my horses, but equally I do enjoy the social aspect. Who would ever have thought that mucking out could take 2 hours?!
Horsemart reader and blogger Nicola Strong has been riding for 23 years and is taking her first steps into the world of British Eventing and British Showjumping with her main horse Willo (Caherpuca Star) and is supported all the way by trainer and sponsor Sharon Kilminster. She has her own blog at www.headstrongequestrian.com.
Browse horses for sale or place an ad on Horsemart now.
Articles