How to Wear Appropriate Dress for an English Riding Event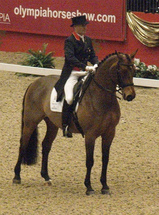 To impress at competition, you'll need to dress to impress. Learn more about the formal dress needed for a horse riding competition below.
When you are turning out in a horse competition, style can sometimes be just as important as substance – especially when it comes to wowing the judge with first impressions. If you want to learn how to dress to impress in an English riding event, consider some of our advice below…


English Riding: The Dress Code
• When you are riding in a horse competition for the first time, it's important to be impeccably dressed to make a favourable impression. However, don't go overboard in the design stakes; keep your appearance formal and tasteful. Wear a crisp white shirt and a tie or neck pin.

• Over the shirt, wear an English riding jacket. This should always reach just below the waist. Bear in mind that at an English riding event, the judges will be expecting appropriate dress, so don't wear a 'loud' jacket as a means of catching the eye. Dark, muted colours convey a much more formal, committed approach to riding for competition.

• In order to boost holding power and streamline traction, you'll need to wear appropriate breeches. The caps and underside of the knee should be bolstered with leather or suede inserts to help improve riding position as you compete.

• Next, slide on your boots. Riding boots for horse competition should always come up to the knee, have a secure fit, and as with the jacket, should be a dark colour such as brown, black or navy blue. As you adjust to them, you will find the heel is very low .This prevents sliding, something which could hamper your chances of success in competition. Once the boots are on, attach the spurs around your heel.

• Ensure your riding crop is ready for use. Check the horse's appearance is appropriate and that all tack is correctly attached before you begin – dressing a horse effectively is just as important as wearing your own formal dress in the correct manner.

• Finally, and for reasons of safety rather than fashion concerns, wear a helmet at all times while the horse competition is in progress, as safety should be your top priority when riding.
Articles