How to Structure a Group Horseback Riding Lesson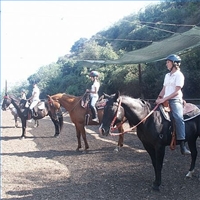 Group Horse Riding Lesson
How to Structure a Group Horseback Riding Lesson
Group horse riding lessons are often the best and cheapest option for students and teachers alike. Having a group horse riding lesson will also improve your arena etiquette. It will also give you valuable experience of riding in a ring with other horses, this is important as you will soon learn to predict potential issues and how to avoid them. Pupils will watch and learn from each other's successes and mistakes which will improve their horse riding technique. This article will help you to plan a well structured group horse riding lesson.
Group Horse Riding – Advice
1.You will need to work individually with all riders before coordinating a group. You must be aware of each person's horse riding skill level.
2.An important part of grouping pupils together is considering what horse they will ride. Some pupils may have their own horses so you will have to make sure that the horses you have in the stables will get along with the others; you don't want any horse fights breaking out!
3.You will need to select students that can control their horse on their own. You cannot have group horse riding lessons where all of the horses are out of control and all the pupils are panicking.
4.The downside of group horse riding is the fact that the instructor's time is split between lots of people. The instruction one will receive in a group lesson will not be as intense as in a private lesson.
5.An ideal number of pupils for a group horse riding lesson is four. You can have more riders present in a group lesson but be sensible; your priority should be the safety of your pupils, if you do not have the space for more riders then do not accept them into the group.

Group Horse Riding Lessons – Lesson Plan


1.Begin the lesson with a warm up in a walk and trot. Use all of the space available to you so all of the riders have adequate room to move.
2.You can have your pupils performing groundwork exercises simultaneously. Lateral exercises, collection and extension are good to practice when riding a horse in a group.
3.If you are working on jumping in your group sessions then you should release one pupil at a time for safety reasons. It is also valuable for the pupils to watch each other jump as they can learn from successes and mistakes of others.

Articles