How to prepare your horse for a show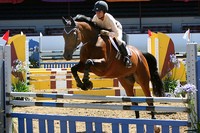 If you're attending a horse show for the first time, you may want to read the tips offered in this guide. Learn about preparing for horse riding shows in this guide.
If you have a show coming up then it is important that your horse is fully prepared for the show. You will also need to make sure that you are prepared too.

Here at Horsemart we caught up with three top show riders and producers to find out just how they prepare for a show.

And then, afterwards, at the bottom of the page, we also have some of our own tips on preparing for the big day.
So, without further adieu, here is Loraine Tatlow. Loraine's family roots are firmly within the showing world and success spans multiple generations, with Loraine's own success seeing her take numerous titles and prestigious winnings throughout her showing career. A talented rider, Loraine has ridden all types of show horses, however, she is perhaps better known for producing show hunters.
"Over the summer, I try and get the horses used to as many different environments as the summer circuit has on offer, then with HOYS looming, I concentrate on the disciplines that are brought to the fore at the show, including concentrating on their flat work, because the judges' ride counts for 50% of the marks, so I prepare the horses with lots of transitions and working on self carriage and a light steady contact." Said Loraine.
"I go to dressage rider Emile Faurie for some help with my show hunters leading up to HOYS, as he has all the facilities that I need to prepare. I think it is important to work in an indoor school with lots of other horses, as you get a lot of traffic in the hunter classes and especially during working-in times.
"There is also music there to try to create an atmosphere similar to the actual day. The one thing you must never try and do is to protect your horse from noise, banging seats etc, as it will then come as a great shock when you take a horse to HOYS for the first time!
"I always organise my farrier to come the week prior to HOYS. Having my horses feet in top condition is important in order to get as many conformation marks as possible. I also check the tack that I am going to use well in advance, as very often we will have more horses in prior to HOYS to produce as most clients like to compete their own horses there. So, we double check what extra tack we will need as well as checking that there are no broken keepers or chewed reins!
"Our washing machine is constantly in use in the lead up as we wash all numnahs, bandages, travelling kit, rugs etc, so that the horses look smart from the moment they step off the lorry ramp.
"I also make sure that I look the smartest I can be, so that means all my riding clothes including ties taking a trip to the dry cleaners before the show and pack doubles of Hairnets, buns, stocks and pins –just in case!"
Next up is Lynn Russell. Lynn has competed in the ring for well over 20 years, clocking up a number of high profile wins both astride in cob, hunter and riding horse classes and side-saddle. Her expertise in producing cobs to top level has made Lynn an expert in her field…
She said: "My show horses have to be fit to compete, so I make sure that I include hacking and schooling in-between show dates, including doing a bit of jumping and pole work - it keeps them happy and interested in their work.
"I always ensure that my horses are ridden by lots of different riders before I put them in a showing class, as this will help your horse go better for the judge. Judges come in all shapes and sizes, so make sure that your horse is used to different weights and genders on him before you enter him into any showing class.
"I also like to ride the horses at indoor shows as the atmosphere is always so different for the horses indoors and whilst some seem to settle really easily, others don't take to it quickly and you need to find out which ones those are! I make sure that my show wear and the horses tack is cleaned and sparkling before we set off for HOYS and the same goes for any shows we go to.
"When it comes to HOYS we always stable over to help settle the horses in. Competing away from home at smaller shows is a good preparation to gauge how well your horse settles down in a change of environment. In the build up to HOYS the horses still get turned out in the field, as it allows them to have relaxation time and saves on more mucking out but make sure that your horse is suitably dressed if you are leaving him in the field – I use a combination of stain removers, hoods and rugs to help keep the mud and grass stains at bay!"
And finally we also spoke to Louise Bell. Louise's name is one that is synonymous with working hunters, although Louise also shows successfully in other classes. Last year Louise took the Working Hunter Championship title at HOYS and this year, she is set to impress after a hugely successful season this year, which saw her constantly hitting the headlines ….
"To even qualify for Hoys is enough of a task, as those tickets are neither easy nor cheap either (the cost of travelling, preparation, entries plus levy etc) therefore the ground work is imperative to success. Once the outdoor shows have finished, there are just a few weeks to get indoors and get the horses used to it –some horses just don't go as well indoors, so it's my job to ensure that they do!
"Indoor arenas tend to ride tighter than most outdoor rings, so fences come up a lot quicker and you have to think quicker too (something which doesn't come naturally to me) so I make sure that we fine tune that aspect of our performance. I also concentrate on my flat work, as the judge expects a winner to have a ride to match. I make sure that all my tack is in tip top condition and fits well, including having my Amerigo saddle checked to ensure it is comfortable for both the horse, me and of course the judge.
"Make sure that if your tack is starting to wear then get it fixed and I obsess about everything being spick and span. If the horse's coats are looking a little shabby, then I will clip them a few weeks before, so that when their coats grow back, they will be much improved. Weight watching is also an important aspect of showing at this time of year –so I am careful not to over or under feed, as you want the horse looking in the best possible condition without looking too fat as the judges will mark you down for this.
"I still continue to hack and school the horses in much the same way as normal, however with the older more experienced horses, and they seem to know when HOYS is coming as their attitude seems to differ –they become slightly dafter than normal and up for the job –more like youngsters than seasoned show champions! However I am grateful for this, as it further goes to show how much they enjoy the show!"
Some tips from Horsemart
So, there you have it, three top show riders telling you all you need to know about preparing your horse for a show. Well, as if that wasn't enough, we also have some of our own top tips on preparation, so here they are...
The first thing that any competitor needs to do in order to prepare successfully for a horse show is to put plenty of time aside for the preparation process. Don't leave anything to the last minute, as it will simply leave you feeling stressed out on the day and could lead to poor performance.




Focus your energies on ensuring the appearance of your tack and clothing makes a statement on the day of the event. Remember the importance of first impressions at horse shows – if event judges initially frown upon the appearance of your clothing and tack, it's unlikely to help your cause as a competition progresses.




Polish all your leathers so they look in tip top condition at the horse show. Use saddle soap and specialist conditioners to help clean the tack and boost its overall appearance. You can buy horse grooming supplies on our sister site, Equine Superstore. Your boots will need plenty of attention also.




Check the condition of your riding hat – will it offer adequate protection for the competition? Personal safety should never be underestimated, as sadly severe injuries can occur during the stress of competing in horse shows.




The metal on any tack can often be an indicator of your commitment to fulfilling your potential in competition – so ensure it shines come the day of the horse show. Use metal polish to remove any marks or blemishes.




Store all tack in a specialist bag that you can access easily on the day of the competition. Before you pack, write out a checklist of the required equipment to ensure you don't miss anything.




After this area of preparation is complete, switch your attention to the appearance of your horse. Brush and groom your horse all around the body, ensuring the coat emits a glossy shine. If the horse can dazzle the judges at horse shows, it should give you more confidence in your own ability to make an impression in competition.




Braid the mane, forelock and tail until it looks neat and tidy, combing and cutting out any irregularities as and when necessary.




Focus on horse transportation issues. You'll want the horse to be as relaxed as possible in the lead-up to competition, so attach a hay net into the horsebox and place it where the horse can access it easily. Ensure the hay is as fresh and nutritious as possible. Clean your horsebox or trailer to ensure sanitary conditions are not an issue.




Pack and prepare any horse blankets, bandages, leg wraps as well as a first aid kit to ensure the horse will experience as little discomfort as possible should any problems arise during the journey.




Finally, in the minutes building up to the horse show, take a deep breath and try and enjoy the thrill of competition – it's natural to be a little nervous, try not to let stress hamper your chances of making an impact.
Articles