How to organise your own horse show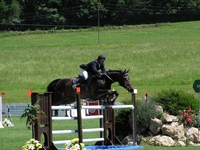 Planning your own horse show can be hugely rewarding, but it's a task that can also be extremely challenging, especially if you have no prior experience of event management.
Although the logistics of arranging a horse riding show can be complicated, it's perfectly achievable provided you market the event correctly and you're willing to communicate with a whole host of different people to make the event into a reality.
Learn more about organising horse shows below.
Arranging horse riding shows: Top tips
Finding an appropriate venue in which to host your horse show will be your first major hurdle, but it's one that you can easily overcome with sensible planning. Plan ahead so you can book a venue and arrange a time and date that suits most riders in the local area. Without a suitable place in which to carry out the competitions, your initial idea cannot become a reality.
Next, think about how you can pitch the event to local riders. Remember, there are hundreds of horse riding shows held every month, so you'll need to be creative in your thinking to attract the number of riders needed to make the event a success.
One great way of encouraging a healthy crowd is to run the event in conjunction with a local charity – in other words, turn the event into a fundraiser. This can be beneficial on two levels, raising much-needed money for the chosen charity and boosting the profile of your event to the local community. Most charities will also have a high level of experience with running events such as horse riding shows, and their expertise could be invaluable in making the event a success.
Even if you're only running a small, local horse show you can't manage it all on your own. Assemble a team of volunteers with a broad range of skills as possible. Some people can take charge of marketing the event, others may be more useful on the practical side of things. Contact local riding schools and organisations to see whether they can attend or contribute to the event – for instance you'll need judges for competitions, show commentators and stewards etc. Assembling a team with a broad range of interests will help you to make every area of the event a success.
Make sure nothing is left to the last minute. It's often the small margins that can make or break horse shows – therefore you'll need to think about everything from catering to toilets and changing facilities. The events will also need careful planning – in the first year of the event, you should keep the amount of shows on offer to a small number to ensure everything runs smoothly, and hopefully this will allow the event to expand over time as your experience grows.
It might be a hassle working out the fine details of health and safety, marketing, pricing structures and entry conditions, but you'll have to be committed to working with these issues in order for the horse riding show to transform from a pipe dream to a community favourite.
Articles