How to Groom a Horse for a Halter Class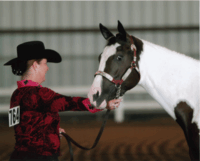 Horse Grooming
In halter classes you are partly judged as a handler on how you present your horse. It is therefore a very important part of preparation to clip and groom your horse correctly. This article will help you if it is your first time in a halter class or if you are experienced and just need a couple of tips on how to get those extra few points.
Things you Need to Groom for a Halter Class
Horse Grooming and Horse Clipping for a Halter Class
1.

Clip your horse at the right time – horse clipping too late is one of the most common causes of point deduction in a halter class. Make sure you clip your horse's coat between one and two weeks before you intend to show your horse. These weeks will give your horse's coat time to fill out and regain its natural colour.
2.

Washing – you should bathe your horse about two days before the halter class so that it has time to regain its oils.
3.

Keeping the shine – to maintain the horse's shiny coat you should use a curry comb or soft bristled brush regularly in the days leading up to the halter class.
4.

Give him a trim – cut the ends of your horse's mane and tail to make sure that they are even and look neat. If you are showing Western then you leave the tail hanging loose, but you should band the mane before the show.
5.

Braiding – if you are showing English then you should plait the horse's mane and tail.
6.

Hoof care – before a halter class you should have your horse's reshod. The hooves should also be trimmed and levelled; all of this should be carried out by a professional farrier.
7.

Polish – after trimming you will need to polish the hooves. If your horse has blue or black hooves you will need to use black polish; otherwise use clear.
8.

On the day – this is when you make your last minute preparations. If your horse has any white markings you should apply some baby powder. Use some coat polish and spray on fly repellent.
9.

Damp cloth – the damp cloth is an essential part of the kit you will need at the halter class. Use it to wipe round the horse's eyes, nose and mouth; keep it in your pocket for any last minute touch ups you might want to make.
Articles