How to Clean Horse Trailers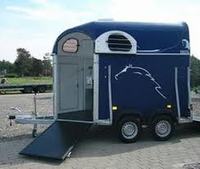 Cleaning Horse Trailers
When buying horse trailers for sale, it is easy to forget to keep them maintained. Part of this care requires cleaning your horse trailer so that it stays in the best condition, is hygienic for the horse, and lets it last for as long as possible. This guide outlines how to keep your horse transport clean.
•

Before cleaning horse trailers, open up all the windows, doors and vents so that you can air it out and have good ventilation during the cleaning.
•

If your trailer has any, take out the floor mats. With a stiff bristled broom, sweep away all dirt from the floor. Give your mats a good clean too.
•

For encrusted dirt or tough stains, use a wire brush to tackle them properly.
•

Once this is cleared away, use a spray hose to wash out the inside of the horse trailer. A strong jet of water is preferable so that you can get rid of stubborn dirt.
•

Horse trailer cleaning products are available to thoroughly clean the lower walls and floor. If you can't find these, use washing up liquid and water. Try not to use too much of the soap though, as this can be hard to rinse off.
•

Let the trailer dry off totally before you put the mats back inside horse trailers. Horse transport that is left damp will cause mould and rot to form, which will be harmful to your trailer and your horse.
•

When cleaning your horse trailers, take the opportunity to look out for any problems with it. For instance, check for holes or cracks in the wood and look for signs of rust.
Articles