How to Choose the Right Riding Instructor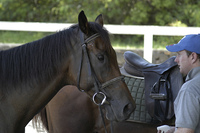 Choosing a riding instructor can be a tricky decision. This guide will advise you on how to make the right choice.
Deciding between different horse riding instructors can prove a real conundrum. With so many factors to consider, from instruction experience to personality, making the right call can prove tough, but it's important to get the decision right as riding a horse will be a lot easier with the assistance of an inspirational riding instructor.

Riding Instructors: How to Choose the Right One
• It's a fact of life that the best riding instructors don't come cheap. Therefore, be realistic with your budget and search around for lesson prices that match. You'll also want to make sure your money is being spent wisely, so consider the type of riding discipline and standard of training you require before entering any agreements. Some horse riding instructors may excel at beginner training but lack the necessary experience to instruct beyond the basics, so bear this in mind as you search around.

• Use both the web and word of mouth when you're choosing a riding instructor in the local area. Direct communication is the best means of judging the suitability of an instructor – while a glossy website may fill you with confidence initially, this may not reflect the standard of teaching. Speak to other riders in the community to gauge their opinions on different instructors and visit riding schools to ask whether you can watch a lesson in progress. A good instructor should have no qualms with this request, and should understand that you need to have some assurance the expense of lessons is worthwhile. Riding a horse can be an expensive hobby, and a sensible instructor will acknowledge this.

• Before you make a firm decision, feel free to ask as many questions as you want – it's better to hear honest answers early rather than make an expensive mistake later down the line should the training not match your needs. Make a list of the things you want to clarify before you part with any money. This may include the size of the riding group, the flexibility of lesson times, costs (and hidden costs), instructor experience, lesson rules etc. If any horse riding instructors seem reluctant to provide consistent answers, it's probably best to rule them out.

• Finally, don't feel pressured into making a decision. It's best to be cautious and methodical when you choose a riding instructor, as you want to make the correct choice, not a rushed one.
Articles