How to Buy an Arabian Horse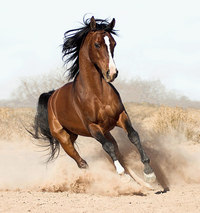 Buying an Arabian Horse
Arabian horses are among the most beautiful and oldest breeds in the world and it is lots of people's dream to own one. Many people think that Arabian horses are more expensive than other breeds, in fact this is not true so don't let that misconception put you off. If it is your dream to own an Arabian horse then this article will give you some helpful tips on how to find the perfect Arabian.
Buying an Arabian Horse
1.

Do your research; use the internet to find Arabian horse breeders near to you. If you cannot find what you are looking for on the internet try looking in a local paper for Arabian horses for sale.
2.

Make appointments at local farms or sellers to see the horses you are interested in. Remember if the owner is legitimate they will be more than happy to have you look around and have hands on experience with the horse.
3.

When you visit make sure that the horse has been well cared for and is healthy. It is also good to build up a good rapport with the owners as it may prove handy when trying to negotiate a price later.
4.

You will need to ask the owner lots of questions about the Arabian and its history, this is important in insuring you make the right decision of which horse to buy.
5.

Make sure you have spent some time with the horse, know and like its temperament. It is good to build up a familiarity with the horse before purchase.
6.

Get a qualified equine vet to examine your Arabian you need to make sure the horse is fit and healthy before buying.
7.

When buying an Arabian horse it is particularly important to have all the correct paperwork. The papers must match the horse and have all the required signatures. You must telephone the UK Arab Horse Society and verify all paperwork as the horse should be registered.
8.

Have all the paperwork done before you hand over the money, because once you do there is no going back.
Buying an Arabian Horse Top Tips
•

Falling in love with the first Arabian horse you see could be easy but you should have an open mind and view a range so you can select the best of the bunch.
•

Don't tell the seller how much money you are prepared to part with as you could end up being overcharged.
•

Take your time and do not rush your decision.
Articles