Edit in sitelab
How to Buy a Horse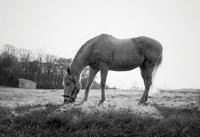 Buying a Horse
Buying a horse is frequently acknowledged as one of the most difficult and stressful things it is possible to do! There are many pitfalls to be avoided, and things may not always be as they seem.
It is always advisable to take at least one experienced person who knows you well with you to look at potential horses, maybe your riding instructor, and always have the horse vetted, by an independent vet if possible.
Ask about the horse's history, his veterinary records and to see his passport. Ask if he is easy to catch, to handle, to bath and to clip. Ask about specific vices – it is always best to ask "does he buck, does he weave?" etc rather than just "does he have any vices?" Don't accept the statement "no vices". A vendor may later say that they don't regard, for example, bucking, as a vice.
Ask to see the horse caught and brought in, brushed off and tacked up. If the horse is already in ask for him to be turned out and caught up again.
Ask to see the horse doing what you will use him for – there is no use in seeing him doing piaffe if you only want to use him to hack out alone!
After he is ridden ask to see him untacked, left in his stable for a while, rugged up and then turned back out.
Deciphering an advert
Even reading and deciphering an advert can be very confusing and misleading! Abbreviations tend to be used so the vendor can get as much information as possible into a small advert. Some of the common abbreviations and phrases seen are as follows:
Forward going: should mean responsive to the leg aids and has a good attitude to work. Could mean that the horse rushes and has a tendency to get strong!
Easy to do: should mean that the horse is easy to handle in every way, but questions still need to be asked. Is he good to clip, shoe, load, travel etc?
Green: should mean that the horse is young and inexperienced. Could mean that the horse is just badly mannered and ill trained!
Has Competed: should mean that the horse has experience in a show environment. Could mean that he was injured and retired from competition, or proved unable to cope well in that environment.
Placed every time out: should mean the horse has a good competition record. Could mean he has only competed once, was the only horse in the class and therefore won!
Snaffle mouthed: should mean the horse is well mannered and easy to control. Could mean that the horse does indeed have a snaffle bit, but also needs a very strong noseband, or perhaps should need a stronger bit!
Never rush to make a decision over buying a horse. Always go back at least twice, and try the horse in as many situations as possible.
Many people are wary of buying from dealers, but sometimes this can mean that you get more security in your purchase than buying privately. It is always worth asking around in the area and perhaps on forums to get opinions on local dealers.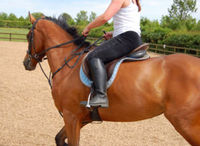 Where to buy a Horse
The most obvious place to look at buying a horse would be horse farms, but there are other options that are worth considering. Look in local newspapers and talk to veterinarians, a further place to look is at auction; you can often find a good deal when you buy a horse but make sure you know what you are buying. You may also want to consider buying a rescue horse, there are always plenty of horses which have been treated badly that need a good home.
Buying a Horse
1.

Make appointments with more than one horse dealer. It is important you don't fall in love with the first horse you see because there could be a better alternative.
2.

Before putting any money down to buy a horse, make sure you are comfortable and familiar with horses. You can do this by reading books, explore horse related sites, visit stables and ask to watch or help with grooming or mucking out chores. All of these things along with actually riding horses will give you a good feel and understanding that will set you in good stead for buying your horse.
3.

Get some expert advice when choosing your first horse, you need many years of experience before you can observe and interpret a horse's temperament accurately.
4.

Check for basic health issues with the horse. It should not look lethargic, or have a runny nose or eyes. Particularly look at the hooves, they should not be deformed or cracked.
5.

Ask an equine vet to take a look at the horse you want to buy. This will give you a comprehensive analysis of the horse's health.
6.

Think about the size of the rider and buy a horse sized accordingly. Do not buy a child a quarter horse, or a heavy man a small Arabian.
7.

Buy a horse that is appropriate for the skill level of the rider. If you are a novice it would be a mistake to buy a stallion, geldings tend to be more docile then mares so they would be a good choice for a beginner.
Buy a Horse Without Making Mistakes
•

Do not fall in love with the first horse you look at
•

Do not buy a horse that is too young
•

Do not tell the seller how much money you are willing to part with
•

Do not buy what you think is a stallion
•

Do consult your child's riding instructor if the horse is for your child
•

Do think about the amount of space you have for the horse and buy accordingly
•

Do consider different breeds
•

Do take your time and don't rush your decision
If you are thinking of buying a horse then you are in the best place!
Buy a horse
on Horsemart today.
Articles