How to Buy a Horse or Pony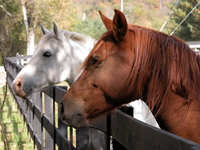 Horse and Pony Buying Advice
Buying a horse or pony is a big commitment, horses take up a lot of time, sure they are fun to ride but they also take a lot of looking after. Where to buy a horse or pony is obvious but it is the buying that is more difficult. Below is some helpful information on how to buy a horse or pony.
Horse and Pony Buying Advice
1.

Before you start considering which horse to buy make sure you have thought about the following questions:
•

Have you got your boarding set up already?
•

Who will feed and clean up after your horse?
•

How much will your feed and vet bills cost approximately?
•

How will your feed get delivered?
•

Who will muck out your horse?
2.

Try not to become attached to the first horse you view, it is good to give a selection a chance to see what you can get for your money.
3.

When buying a horse or pony ask the owner to ride it so you can observe its movements.
4.

Have a poker face, if you appear too keen on a horse the seller will think they can charge you whatever they want.
5.

Ask for a guarantee, this is an especially good idea if you own other horses. If you are not happy with the way the pony responds back at your facility you will not be left in a sticky situation.
6.

If you are buying a horse or pony for a child it is a good idea to get a more seasoned horse, this will reduce your medical bills; remember that a horse's bone structure is not fully matured until the age of seven.
7.

Have an equine vet check the horse or pony over for any ailments and complaints before you buy.
8.

Don't buy a horse or pony that is too young, it is much safer to have a horse that has experience of being ridden.
9.

Take your time when buying a horse or pony and consider different breeds.
Before you Buy a Horse or Pony Just Ask
•

Are the registration papers in order?
•

Is the horse suitable to carry any kind of rider?
•

Is the horse ok to go on trails with other horses?
•

Does the horse travel well in a trailer?
•

Does the horse have arthritis, any respiratory problems or allergies?
•

Does the horse buck and rear?
•

How long has the seller owned the horse for?
•

What has the horse been used for in the past?
Articles