How to Buy a Dressage Horse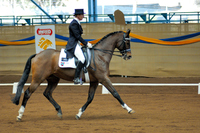 Dressage Horses
Dressage is one of the most difficult and challenging of the equestrian disciplines. When buying a horse suitable for dressage it is therefore important to make the right choice. The horse has to be capable of performing the precise and demanding movements of dressage riding. Horses can possess natural talent and skill for this sport even if they just have experience of regular horse riding; so it is important that you find one to put you ahead of the game.
Horse Buying Advice
1.

Decide how much experience you require your dressage horse to have before you start shopping for your horse.
2.

When deciding how experienced you would like your horse to be you must also analyse your own skill level. Naturally you have to weigh this up against the amount of money you are prepared to spend. Schoolmasters are unsurprisingly more expensive, however for your money you get a well trained horse which has competed successfully at a high level. Younger horses will have less experience and will require a great deal more training but ultimately are cheaper to buy.
3.

You should think with an open mind when buying your dressage horse as having a selection will give you a good idea of what is available.
4.

Make appointments with three or more dressage horse owners. It doesn't matter if they are just selling one horse or whether they have many horses stabled.
5.

Watch the owner riding so that you can see how the horse moves. You should also ask to see specific moves if the horse has been trained for dressage.
6.

Ride each horse you are considering enough times that you get a feel for both their physical condition and temperament.
7.

Evaluate the horse for flexibility, attitude, responsiveness and its willingness to work.
8.

If the horse has accomplishments request a list of them. The owners will have the information to tell you the horse's scores in shows and if it made the ribbons.
9.

Do not base your decision to buy a dressage horse based purely on the horse's achievements with another rider, but it is a good indication of potential success.
10.

When you think you have chosen your perfect dressage horse make an appointment for an equine vet for a check up. The most frequently occurring ailments in the sport are navicular changes, hock maladies and parasites; so make sure the vet checks specifically for these complaints.
11.

When making an offer for a particular horse, base your asking price on those of comparable horses on the market.
12.

The horse market is constantly changing so you can always try and bargain as the dealer may be flexible on their asking price.
Articles