Horses for sale UK: Hackney horses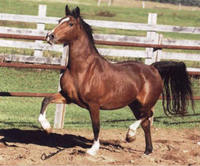 Looking for horses for sale UK wide? You can find hundreds of horses for sale on Horsemart, but in this guide we'll be concentrating on Hackney horses – a native English breed of horse popular for showing, harness, show jumping and dressage.
The breed has been maintained by the Hackney Horse Society since 1883, and modern techniques have helped to produce a horse that is particularly suited to the unique demands of carriage driving.
If you want to learn a little more about the benefits of owning a Hackney horse, the advice below takes a look at the Hackney breed in a little more detail.
Hackney horses are particularly sought after as they possess great stamina and endurance – these elegant horses can trot at high speeds for an extended length of time. If you're looking to acquire a Hackney horse for sale, you'll benefit from a breed with a high level of intelligence and a free flowing gait – the Hackney is arguably up there with the most graceful of all horse breeds.
This breed has origins dating back to the 14th century – and has royal pedigree. During this era, the King of England requested the development of a powerful yet aesthetically pleasing horse that could be bred for excellent all-round leisure riding. The Hackney horse was the result – and it remains a popular breed of horse for sale for many UK buyers.
Characteristics of the Hackney horse breed include a height that can range from 14.2 – 16.2 hands high; varied solid colourings, including bay, brown, chestnut and black, with occasional white markings; as well as expressive eyes, a distinctive high knee and tough hooves that help to mark Hackneys out from other native breeds.
Finally, if you're after a horse for sale from the Hackney breed, it is encouraging to note that these horses are renowned for their excellent trainability – something which makes them extremely popular for showing.
Articles