Horses for Sale UK - Danish Warmblood Breed Guide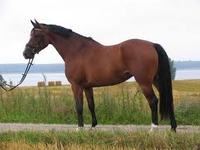 Danish Warmbloods Guide
Danish Warmbloods
are modern sport horses originating from Denmark. This is a popular breed used for competition and is very successful in certain equestrian disciplines. See the following guide if you are considering a horse for sale from this breed.
Horses for Sale UK – History of Danish Warmbloods
This breed was developed in the middle of the 20th century by crossing established European bloodlines with Danish mares. The breeders of the Danish Warmblood claim that despite only breeding since the 1960s, their horses are far more superior than other European sport horses.
Horses for Sale UK – Uses Today
These warmbloods are considered to be a young breed in comparison with others that are much more established. However, these sport horses take part in international competitions such as show jumping and dressage.
Characteristics
Many people buy horses like this because of their strength, courage and good temperaments. They are ideal for competition due to their strengths both mentally and physically. Dressage and cross country are suited to them for this reason.
Appearance
This horse for sale will grow to an average size of 16.2 to 17hh. Their coat colours range, but are all solid.
Articles