Horses for sale UK: Clydesdale horses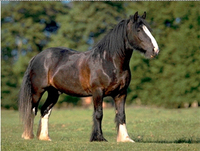 Looking for horses for sale UK wide? You can find hundreds of horses for sale on the Horsemart website, from miniature ponies to ex racehorses.
However, in this guide, we'll be taking a look at what Clydesdale horses can offer to the modern day equestrian enthusiasts. The Clydesdale breed of horse is one of the most popular of all the native British breeds.
With origins dating back over 300 years, the breed was popular in Scotland as a hard working horse used for pulling heavy loads in rural and industrial areas. You can learn a little more about the benefits of owning a Clydesdale horses in the guide below.
Clydesdale horse breed guide
As the name suggests, this breed of draft horse was derived from the farms and hills of Clydesdale. Anybody planning on buying a Clydesdale horse will benefit from a powerful, healthy animal ideally suited to many popular English riding equestrian disciplines.
The breed has made a remarkable recovery in recent times – in fact, for a short time during the 1950's, just 80 of the animals were licensed in the UK, and by 1979 the breed was categorised 'vulnerable' on the Rare Breeds Conservation Trust. However, the horse has enjoyed a resurgence, with over 5000 horses located worldwide, and that's why it's become easier and easier to find a Clydesdale horse for sale in the 21st century.
Clydesdales are versatile horses offering graceful movement. Standing at an average height of around 16-17 hands high, you'll be able to find Clydesdale horses in any number of colours, including bay, chestnut and black. Most have distinctive white markings; whilst Clydesdales of roan colouring are mostly found in and around the region of Scotland in which these horses were first established.
Today, the Clydesdale horse is most often used for draught work and for showing at agricultural shows.

Find Clydesdale horses for sale on Horsemart
Articles