Horse Show Preparation Guide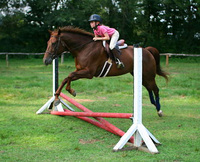 Learn how to prepare for a horse show in this guide. From horse grooming to training, there are a number of steps you can take to make sure a horse is well prepared come the day of the show.
If you're heading to a horse show for the first time, naturally you'll want to put plenty of thought into preparation in the days leading up to the bid event.

There are a number of important steps you can take to ensure your horse heads into competition in the best possible shape, from horse grooming to specialist calming methods.


Preparing for a Horse Show: Top Tips

Appearances can be all important come the day of the show, so you should take some time to focus on both your clothing and the appearance of your horse in the days leading up to the horse show.

Although naturally riding ability and command of the horse will be of most interest to the judges, it's best to dress to impress as first impressions will always be significant. Polish your leathers and ensure riding boots and horse tack sparkle come show day.

And that's why you should also place plenty of emphasis on horse grooming as the big days draws ever closer. Put plenty of time aside to ensure your faithful equine companion looks the part in the heat of competition – it'll only help to boost your chances of making an impression.

Remove any unsightly clumps of hair and, if necessary, consider whether horse clippers are required for more advanced grooming. You can find out a little more about horse grooming and clipping a horse by clicking the links provided.

Finally, it's important to turn your attention to some practical preparation. The day of a horse show can be chaotic, with plenty to think about. For that reason, it's generally a good idea to alleviate some of the stress through some simple organisation. Pack away all horse tack and equipment that is required for the show well in advance of the event itself. Try and load all equipment into the truck the day before to avoid imploding into panic mode on the morning of the horse show.



Find horse shows on the Horsemart website


Articles