Horse riding holidays in Europe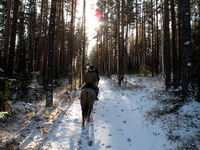 If you are thinking of heading out and about on a riding holiday, then why not head to Europe? There are plenty of fantastic riding holidays available on the continent offering something for everyone. So, we decided to make a list of some of our favourite riding holidays in Europe.
From Russia to Portugal and everywhere in between, this splendid continent of ours offers some of the best riding terrain in the world. So have a look around and see some of our top picks. You might just end up finding your dream holiday.
Epona Equestrian Center, Spain
Epona Equestrian Centre, one of Spain's premier horse riding locations, is located just 20 minutes from Seville airport in the Andalucia region. It is based in a historic 16th century Hacienda which was once visited by Spain's greatest writer, Miguel de Cervantes. Here you will find over 65 horses and ponies, a vast array of stables and horse arenas, as well as an outdoor swimming pool, comfortable bedrooms with all the modern facilities and an enormous scenic garden. Offering a huge range of equestrian activities, Epona is an ideal destination for those who share the owners' true passion for horses.
Portugal
Portugal is famous for its horses, especially the beautiful Lusitano horses, known for their calm and good nature and famed for their excellence at dressage. A riding holiday in the Alentejo region south of Lisbon will allow you to experience beautiful coastal scenery, a beach ride, and the unique experience of riding a Lusitano horse.
Italian Wine Trail
The great Italian wine regions of Tuscany, Lazio and Umbria offer an amazing rustic riding experience, crossing verdant valleys and riding through undisturbed forests, enjoying views of vast sunflower fields and spectacular mountains in the background. The hills are dotted with historic monasteries and castles. You can stay in agriturismos, farmhouses which offer authentic Italian food and wine along with beautiful rustic accommodation – the ideal places to stay on a horse riding trip.
Cappadocia, Turkey
The Cappadocia region of central Turkey offers a wealth of natural beauty and cultural and historical heritage. Stone citadels nestle in the sheer rock walls of the Valley of Uzengui. Spectacular plateaux offer commanding views of the Cappadocia's unique landscape. A narrow trail leads from the Red Valley to the hidden Hacli Kilise (Church of the Cross), with its remarkable frescoes and the atmosphere of centuries of spiritual tradition. For geological wonders and historical landmarks, the Cappadocian region is without equal.
Russia
Russia's huge area and natural diversity means it offers a variety of great opportunities for riding holidays, from tundra and steppes to the temperate cities of the Black Sea coast. Experienced riders may wish to experience the wonder and adventure of a Siberian Mountain Trek. A horse trek starting from Sargaljuke can take you along the Chuysky Trakt, a highway leading into the Altai mountains. You can visit Lake Teletskoye, the biggest and deepest lake in the Siberian mountains. Meander through mountain passes, and ride fast across an open plateau, experiencing unparalleled views, for example the glaciers of the Aktru ravine.
Ride the Norwegian fjords
Millions of tourist descend on this breathtaking Scandinavian country for a glimpse of the famous fjords, but in our humble opinion, there's no better way to appreciate the view than a trip via horseback. The rugged mountain and glacial terrain offered on Norwegian trail rides will certainly cause envious reactions back home when you get the photo album out in years to come.
See a side of Spain ignored by the tourists
Forget the sun, sand and sangria, for a true taste of Spanish culture you need to head inland into the unspoiled Sierra Nevada region of Spain, just south of the historic city of Grenada. This is tucked nicely away from the tourist crowds, and you'll be privileged to ride through terrain that offers something to take the breath away at every turn.
Have an Aegean adventure in Crete
Sunseekers, here's our tip – a Cretan getaway will appeal to anybody who wants to mix glorious sunshine, lazy days on the beach and some delicious Greek cuisine with a spot of horse riding. Crete has a number of professional equestrian centres, so you shouldn't find it to hard to track down a travel package that meets with your needs.
Enjoy the continental culture of central France
If you're looking for a quick getaway only an hour or so from home, you really cannot go wrong with a French riding holiday. However, with so many different regions to choose one, we've had the difficult task of picking a favourite, and our tip is the Vienne region. It's the charm of this place that appeals, blessed with hidden valleys, friendly villages and picture postcard scenery.
Articles