Horse Riding Adventures at home and abroad!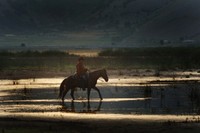 If you've ever thought of going on a riding holiday, you may have realised choosing one can be quite bewildering initially. Nowadays there are a vast range of destinations to decide between and it is hard to know where to start!
Before you start looking seriously, it is often easier to think about exactly what sort of experience you are looking for and what your budget is.
There are rides where you can just relax, enjoy the scenery and the food, and generally have a great time and there are destinations which require some a lot of stamina and a higher level of riding experience.
These days there is growing interest in the increasing number of fabulous rides available in more modest destinations in Eastern Europe such as Bosnia and Croatia; here the warm welcome will more than make up for the lack of sophistication.
Rides in Spain and mainland Europe are still very popular with plenty of sunshine and a range of riding activities to suit riders of all levels of expertise. Further afield there are wonderful opportunities for the budding cowboy or gaucho at ranches in the US or estancias in Argentina.
Safaris in Africa cater for riders of all levels although to encounter game such as elephant and lion you need to be an experienced rider. The accommodation can vary from basic fly camps to luxury lodges with every facility. More ambitious riders can ride a trail across the Andes or the desert in Namibia.
The thing to realise is that there is a riding holiday to suit everyone, if you know what you want. For help booking a holiday there are many agencies in the UK who are more than happy to talk through your options and advise you. They will help you with every aspect of your trip, can make all the arrangements and you have security knowing that they have tried and tested the destination.
Articles