Horse Jobs: Stable Hand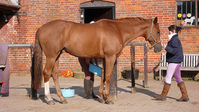 Learn about what a stable hand job involves in this article.
There are many equine jobs in a huge range of areas. However, all of thesehorse jobs have a common aim: to make sure that horses are well cared for in whatever discipline they are in. Becoming a stable hand is the dream job for many as it allows you to be working with horses on a daily basis. However, it is very important to realise that this is not just a job, it is a passion. These sorts of equine jobs should only be entered into by those who will commit their lives to their work.
Being a stable hand is demanding work. Looking after horses does not stop for the weather and tough chores must be carried out everyday. The hours can be long and anti-social with pay being fairly low. It is fair to say that stable hands must dedicate a lot of their lives to this career.
These horse jobs are based in stables and have the main responsibility of ensuring everything in the stable is kept in good order and is maintained. This includes:
mucking out stables

preparing bedding

sweeping

horse grooming

feeding

exercising

cleaning tack and equipment
It should go without saying that to be successful in these equine jobs the candidate must be in great physical shape. Lots of time is spent lugging heavy items, pushing wheelbarrows and working in uncomfortable positions. For this reason, it can be a risky job. As with any job involved with animals, there could be times when you sustain injuries.
When it comes to grooming, the stable hand must ensure the horse is looking and feeling great. However, it also provides an opportunity to build a good bond with the horse, which will make working much easier and fun. In fact, stable hands are often known to be the first people to notice an illness or unusual behaviour in the horse they work with.
Travel is a common part of working in these horse jobs. A stable hand must go with their horses to other parts of the country or even the world for a range of events. This is not a holiday though, as it will be more important than ever to ensure the horse is in his best condition and state of mind.
A stable hand position usually tends to be based at smaller riding stables, although anybody looking for this type of role should contact larger commercial riding businesses, as they may be looking to take on stable hand staff on a part time basis.
In terms of the job role, versatility is perhaps the key to becoming a successful stable hand, as this particular position involves knuckling down and performing tasks from across the spectrum – whether related to administration, grooming or feeding. For most people, a stable hand job is a great entry level position to learn the ropes, but for others, it's a chance to fulfil a passion, spending day-in, day-out alongside equine companions.
A stable hand will need to exhibit a number of skills to succeed in the position. For instance, anyone in this role should be in reasonable physical condition as it involves plenty of hours working out doors, mucking out and riding. Good communication skills are also desirable, as this job may involve consulting with members of the general public if the stables are run on a commercial basis.
Finally, it's important to bear in mind that employers may expect a stable hand to commit to flexible hours, as looking after horses can be a full-on job. Aside from grooming and feeding, major tasks will also include arranging veterinary appointments, cleaning the stable area and general facility maintenance.
Key roles of a stable hand
The job of a stable hand, or horse groom, as it is sometimes alternatively known, primarily involves taking responsibility for the grooming of the horse and the maintenance of the stable yard.
This can include mucking out early in the morning, cleaning the horse following exercise and turnout, and brushing down the horse at the end of each day. Stable hands with plenty of grooming experience may also take responsible for the careful grooming required to make a horse look presentable for show.
A stable hand will also be charged with the daily feeding of the horse. If the stable hand is dealing with a number of horses, feeding can vary, depending on the exercise undertaken by, and age of, the individual horse. It's important for a stable hand to settle into a dedicated routine to ensure horses stay happy and healthy, and to follow strict dietary guidelines for horses undergoing the rehabilitation process.
Sometimes a stable hand can provide an advisory role to a stable trainer, helping with exercising the horses and preparing and cleaning tack for training sessions. In some cases, daily riding may also be an advantage of this role – taking a horse through its warm-up exercises and helping with speed training.
Finally, one important role carried out by the stable hand is general administration in relation to equine medical concerns. The stable hand may take some responsibility for arranging veterinary appointments and prescriptions, and consulting with the vet in the event of an emergency.
Articles