Horse Games: 5 Cool Horse Games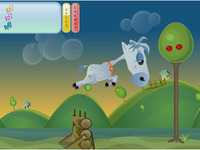 Online Horse Games
Horse games can be a great deal of fun, and another way to enjoy having an equestrian interest. There are many good online games with horses today, all with different purposes and levels of difficulty. For a guide to 5 cool horse online games, see the following information.



Singing Horses
Horse games like this are slightly unusual, but fun nonetheless. There is no win or lose here as it is a game for pure enjoyment purposes. Get creative and make horses sing. There is a choice of 4 horses, and each one sings a different note. By clicking on each one you can make a horsey tune. If it sounds bad, then unfortunately you have yourself to blame!

Click here to play.


Rainbow Ponies Dress Up
This is a fun game for getting ponies dressed up. Choose out of three ponies, and then dress them up in the finest gear ready for show. Online games with horses like this are just for a bit of light fun.

Click to play.


A Virtual Horse
This is a great way of learning about keeping horses at the same time as having fun online. The idea is to adopt your own virtual horse. Once you have named him, you can play games with him, make him some friends, and make sure he is healthy. There is plenty you will need to do to keep your horse happy and earn points. Online games with horses such as this one are great for learning responsibility.

Click here to play.


My Stable
This is another horse game that involves looking after a virtual horse. It is up to the player how the game is played. You can breed, train and show your horse. It is also possible to see your horse in its stall. You can play the trainer role or catch wild horses.

Click here to play.


Horsey Run Run
Horsey Run Run is one of many simple yet fun horse online games. Your horse must run a course, but avoid all the obstacles in his way. The horse drawings are amusing and the different levels mean your horse can run in a number of environments.

Click to play.

The above horse games are all free and do not require any additional purchases. Some of these horse games might an email sign up.


Articles