Horse Associations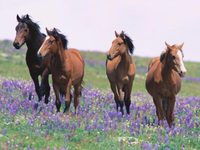 This article details some of the key horse associations found in the UK. To learn more about associations for horses and the work they carry out, read this guide.
Across the UK, there are a large number of associations for horses. Below, we take a look at some of the most important organisations in the country when it comes to equine welfare and equestrian competition. Of course, there are also a large number of regional organisations, so if you're looking for events and organisations locally, it's best to seek out your regional organisation.



Horse Associations – Five Key Organisations
British Horse Society


This organisation is committed to the promotion of British riding. If you're looking for advice on riding horses, competition rules and regulations and tips on general equine welfare, this organisation can provide all the answers to your questions. The BHS is also home to British Riding Clubs, the UK's largest movement for amateur riders. Visiting this organisation's website is an ideal starting point to pursue your passion for horses.


British Equestrian Federation


The British Equestrian Federation is the governing body of equestrian sports in the UK, and the body responsible for the official Team GB Olympic Equestrian team. The BEF works to promote the interests of 4.2 million riders and carriage drivers across the UK. The federation is formed of 16 independent member bodies, including the British Horse Society (see above), British Eventing, the Pony Club and Riding for the Disabled.


British Show Horse Association


This association is dedicated to the breeding and showing of hacks, cobs and riding horses. The BSHA holds shows throughout the country, attracting members of all ages and abilities. It's famed for its dedicated 'Rising Stars' events that gives young riders the chance to excel at the National Championships show every year.


British Equine Veterinary Association


BEVA promotes and champions high standards of equine care and welfare across the UK and worldwide. The association also runs numerous education schemes to encourage better learning on equine health issues. Dedicated to scientific excellence in equine welfare, BEVA's website also offers a vital 'find a vet' service that should help you find equine health experts in your local area.


World Horse Welfare


This association was formerly known as the International League for the Protection of Horses (ILPH), but rebranded in 2008 to reflect the modern-day focus and work of the organisation in promoting standards of horse welfare across the globe. One of the largest equine charities in the world, this horse association works on recovering, rehabilitating and rehoming horses both domestically and around the world.

Articles