Haflinger Ponies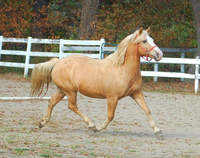 Haflinger Ponies for Sale
Haflinger ponies originated from the Alpine farms of Austria. Haflinger ponies are from Arab blood as they were bought back from the continental wars with the Turks and were crossed with native Tyrolean ponies.
Haflinger stallions have been registered for over 100 years and now there are Haflinger ponies for sale on all five continents.
Characteristics of Haflinger Ponies
Haflinger ponies have expressive faces, large dark eyes and a lively disposition. These ponies have strong sloping shoulders and good withers. Haflinger ponies have a long free elastic stride and are usually 14hh in height. You can buy Haflinger ponies for sale in chestnut, liver or red and dappling is acceptable. The mane and tail of Haflinger ponies should be white or flaxen.
Temperament of Haflinger Ponies
Haflinger ponies have extremely loving temperaments and are always out to please their owners. Haflinger ponies need to have plenty of exercise, they do not need large fields of lush grass but like all horses they should have strong boundaries and lots of fresh water. Haflinger ponies are hardy but they still need to have shelter from cold and wet weather conditions.
Articles