Edit in sitelab
Equine Jobs: Riding Instructor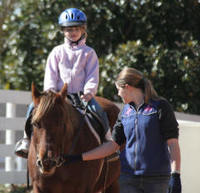 Learn about riding instructor equestrian jobs in this article. If you're interested in applying for equine jobs, this article might be an interesting read.
Searching on the Horsemart website for equine jobs? You'll be able to find several different career paths available in the world of equestrianism, but for many horse enthusiast there are few career options better than becoming a riding instructor.
As a riding instructor, you'll need plenty of patience and tolerance, but above off, a real enthusiasm to share your passion for horse riding with others. You can learn a little more about the skills needed to operate as a riding instructor in the guide below.
Horse riding jobs: Becoming a riding instructor
Firstly, it's important to be realistic before you even consider this career choice. Do you the experience and know-how required to be an inspiration to others in this job or will other equestrian jobs be better to suited to you.
In some cases, it may be best to get involved in as many different horse jobs as possible before you embark on this career – after all, you will want to have as rounded an experience of horse riding as possible before instructing others about the joys of the hobby.
Assess opportunities at local riding schools in your area. If you have little or no prior experience of the skills required to become a riding instructor, it's perhaps best to apply for apprentice opportunities at livery yards and education & training centres in your area. This will allow you to observe qualified riding instructors in action, pick up best practice and will ease you in gently to the challenges involved in instructing.
By showing plenty of commitment in your role as an apprentice, you may be able to find full time opportunities with the riding school. If not, however, the experience will stand you in good stead for securing a more permanent position elsewhere.
Insurance will be all important if you harbour ambitions of becoming a full time instructor. As with any outdoor activity, the potential for accidents to occur will always be high, so it's important to be covered should an unfortunate situation develop under you watch.
Several leading companies offer riding instructor insurance, so it's best to assess all the options before zoning in on a quote. As a rule of thumb, it's always best to take out horse insurance when embarking on horse riding jobs.
Finally, the option to become self-employed as an instructor over time will be tempting; so you may want to become a certified riding instructor to boost your tuition credentials.
Articles