Equine jobs: Equine dentistry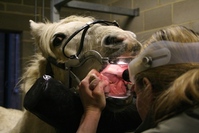 For many people looking for horse jobs, one of the most intriguing of all equestrian careers is equine dentistry.
If the potential of a career as an equine dentist appeals, you'll need to be committed, as the key to securing this particular role lies in years of education and training.
Many leading universities and agricultural colleges across the UK – including Hartpury College - offer dedicated equine dentistry courses, but in this guide we'll be taking a brief look at the kind of work this career involves.
Equestrian jobs: How to become an equine dentist
Anybody keen on equine jobs relating to health should seriously consider the prospect of becoming an equine dentist, as it's a niche skill and one that is highly valued in the equestrian community.
Equine dentists will have the primary responsibility of 'floating' a horse's teeth. This process simply involves ridding the teeth of sharp points with a file.
Research suggests equines continues to teeth until at least 15 years of age, so naturally equine dentists play an extremely important role in controlling growth and ensuring the horse does not experience any pain. Horses may require the attention of an equine dentist anything up to three times a year.
There is no set route into equine dentistry, but you'll need some form of certification to perform this extremely delicate job, so it's best to explore equine dentistry as well as general veterinary courses in your area to find further details on the experience required to fulfil this role.
Often, you'll need to undergo a lengthy apprenticeship with a registered equine dentist to stand any chance of securing one of the most rewarding of all equestrian jobs.
The starting salary for an equine dentist is fairly low, but after several years of experience, annual salary can rise to around £18,000-20,000 a year.
Articles