Equestrian Clothing: How to Dress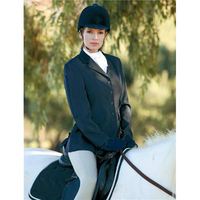 Learn how to buy appropriate riding clothes in this guide to equestrian clothing.
If you have just taken up the hobby of horse riding, naturally you may be looking to buy equestrian clothing for sale. The amount of choice in terms of riding clothes has expanded rapidly in recent years, so the novice rider shouldn't be stuck for inspiration.

However, there are a number of things that you need to consider before you start browsing online for equestrian attire. In order to excel in sporting competition, you'll need to look the part, as the guide below explains.


Horse Riding Clothing: Appropriate Dress

In order to appear formal during competition, it's important that you select the right fit when choosing equestrian clothing, so take plenty of time when trying on clothes and seek advice from expert riders – it could ensure you don't waste your time and money buying ill-fitting clothes.

Horse riding clothes should never appear baggy. Loose horse riding clothing doesn't only look untidy – it can also be potentially dangerous, particularly if it catches on something as you right. Therefore, equestrian attire should always offer a secure fit – but not so tight that it becomes uncomfortable during riding.

To reach the top in equestrian competition, a rider needs to put all distractions to one side. And for this reason, it is important to place some focus on comfort whilst riding, particularly for physically demanding disciplines such as show jumping and eventing. Competitors keen on making an impression at a horse show should select clothing that is appropriate to wear for the time of year – so, thin clothing in the summer, and snug clothing for those cold winter months.

Finally, never underestimate the importance of safety when buying horse riding clothing. It's all very well splashing out on equestrian attire that looks fashionable, but safety really does need to come into your thinking. Always take plenty of time when choosing a riding hat and invest in safety vests and reflective clothing for safe riding on the road.

Find equestrian clothing for sale on our sister site, Equine Superstore

Articles