Equestrian Clothing: Equestrian Safety Gear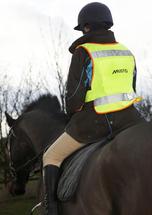 Learn about the safety aspect of equestrian clothing in this article. Safety should always be your top priority when it comes to horse riding clothing, as this guide explains.
Regardless of riding ability, the main priority for any rider when it comes to buying horse riding clothing should be safety – particularly when riding on the road.

While sadly little can be done to stop an unfortunate accident occurring completely, there are a number of purchases you can make in relation to your riding clothes that can help to minimise the risk.
Below, we consider some of the most important safety advice in relation to equestrian attire, but our best tip is to always prioritise safety over style, no matter how experienced a rider you are.


Horse Riding Clothing: Equestrian Safety Gear Guide

• Firstly, you should never head out on your without a riding hat. There is simply no point in putting yourself at risk, even if it can be tempting to go without. Whilst it might seem too much of a hassle to put on a riding hat when you're covering gentle terrain or travelling short distances, it's vital to remember that it doesn't take much to go wrong for a serious accident to occur.

• Consider the benefits offered by riding safety vests. As the name suggest, this item of riding clothing really can have a significant impact in offering protection to fragile areas of the body such as the neck, stomach and back. Many an experienced horse rider will have a story to tell in regards to broken bones – and nearly all of them will vouch for the importance of these items of equestrian clothing.

• If you're planning to ride on the road, reflective equestrian attire may be essential in warning other roadusers of your impending presence. In fact, during the winter months when visibility can be an issue, reflective clothing should be one of your priority purchases.

• Finally, some practical safety tips for riding. It's always best to let a friend or fellow rider know of your riding intentions if you are planning to head out alone with your horse. A medical armband should also be worn at all times, containing vital contact details to close friends and family.

Find equestrian clothing for sale on our sister site Equine Superstore
Articles