Do it yourself living quarters for horse trailers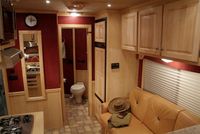 Horse Trailers
Horse trailers can be very expensive to buy; especially if they come with fully kitted out living quarters. To cut costs when you buy a horse trailer you can simply do it yourself. With a little knowledge and some dedicated work you will be able to create some fantastic horse trailer living quarters.
12 steps to making your own living quarters
The best way to start is to draw a floor plan of your trailer that includes measurements of the walls, windows and doors.

You should draw in where you will need electrical outlets for appliances such as a fridge or a microwave.

The next step once you have your measurements is to cut some insulation to fit into the spaces of your trailer walls.

Stick the insulation to the trailer with some aluminium tape.

Next you will need to attach some 1 inch by 3 foot stripping across the trailers support beams. To attach these you will need to use number 10 screws making sure that you space the strips 14 inches apart.

Cut some plywood which fits to the size of your trailer floor. To make sure that it stays in place you should attach it to the floor with number 10 screws.

Now you will need to start building a framework for counters, closets, benches etc. To do this simply, you can use 2 inch by 2 foot boards and join them with number 8 screws.

The next part is probably the hardest, unless you know a lot about electrics and plumbing then you will need to get someone professional to help. If you do choose to try it yourself then you will need to set up electrical outlets, run wiring and hook up a breaker box.

For the plumbing you will need to decide if you are just going to be staying in the trailer for a day or two or whether you need the full shower and toilet.

Next you can start having fun with it, add some cabinet doors with pine boards; add magnetic latches so that your drawers stay shut when travelling.

Now you can attach the panelling to the stripping.

You can put laminate floor tiles in, paint the panelling and then you will have fantastic living quarters in your horse trailer.
Articles