British Eventing Rules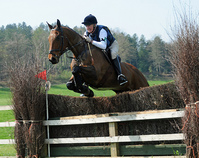 By Darcie Lattin
British eventing (cross country) is fun for people of all ages and riding abilty! There are some guidelines that a rider/horse combination should master prior to competing at a British cross country eventing compitition.
Any rider who is competing should be able to ride a horse in a straight line into, over and after the fence. A rider should also be able to jump a variety of single fences eg, logs, brushes, ditches, tyers posts and rails. The aim of British eventing is to provide fun and enjoyment to all competers as well as an educational and confidence boosting experience.
If you want to progress and compete at BE90 then rider/horse combination should be able to canter at the correct speed of 475 metres per min. Riders should approach all jumps confidently and jump a narrow fence, and attempt a simple water complex (eg ramps etc.) Riders at BE90 level shouldble to jump a double with one or no bounce strides inbetween.
Novice cross country is however more advanced (for those with a little more experience) riders should be able to have good control, in able to canter at a speed of 520 metres per per min. rider/horse combination must attempt a spread fence (top spread 1.50m) after the 4th fence riders will be expected to jump a fence prior to entering the water complex and after!
Once the rider/horse combination have mastered all of the above and are confident, and happy with their progress, then they are able to enter the intermediate classes. The speed in this class increases yet again to 550 metres per min, this time riders will be expected to jump a top spread of 1.60m and jump a range of complex fences, eg, drops, narrow fences and courners. Now the rider is more experienced in the field of cross country they should jump a 2/3 step bounce into the water complex.
Articles