British Dressage Competitions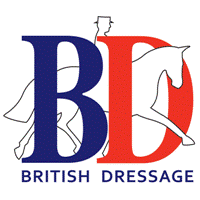 by Kim Duly
The word dressage translated means training, so if you are longing to try a dressage test but not sure if you are good enough, don't worry! The purpose of a dressage test is to assess the level of training of horse and rider. A score sheet from a decent judge will highlight any strengths and weaknesses in your partnership and will allow you to reflect and self evaluate on your performance and will allow your coach to help you improve.
A dressage test is formed of a series of movements, each with a maximum score of ten points. At the end of the test there are extra points, called collectives, that focus on aspects of the horse and rider, including suppleness, rider's position and results, rhythm and contact. All movements are judged following the Scales of Training - rhythm, suppleness, contact, impulsion and straightness. Your coach can help to explain these. At the end the scores are added up and the highest percentage wins. It is important to keep a record of your percentages so that you can see any improvements.
British Dressage run two types of competition; affiliated and unaffiliated. Unaffiliated competitions can be run by anyone and are quite often held at livery yards and riding schools. These are good competitions to start with because the judges may not be as strict and the standard of horse and rider may be slightly lower. Also anyone can compete unaffiliated without joining British Dressage. Affiliated competitions allow the rider to be judged by a trained judge, meaning that scoring will be more consistent. The centres that hold affiliated competitions are expected to be of a certain standard, so the arenas, parking and other facilities may all be better than at an unaffiliated competition. If you are not ready to join British Dressage you can compete in Open Prelim classes without joining or you can buy a day ticket from British Dressage.
Whether you decide to affiliate or not, the tests are often the same. The ideal level for novice riders and horses is Intro level. These tests include walk and trot, transitions, circles and changes of rein. The next level is Preliminary. These tests include a small amount of canter, sometimes canter circles, transitions and different school movements. Novice is the next level which includes lengthened strides in trot and canter and more school movements in canter. Elementary comes next bringing direct transitions, small circles in canter and more lengthened work. At this level the horse would be expected to be in a relaxed, consistent outline and to be working well from behind. The levels continue through medium, advanced medium, advanced, prix st george, intemediare I, intermediare II, up to grand prix where the test can include flying changes, half pass and canter pirouettes.
All the test sheets are available to buy from British Dressage or good tack shops and it is important to know your test before you enter a competition. It is usually a good idea to be working at a level higher than you intend to compete. A good coach can really help with your training and will happily help you to prepare for a competition. So give it a go, and good luck!
Articles