Best Riding Holidays in Scotland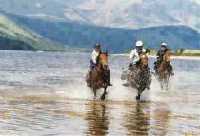 Are you looking to take a horse riding holiday? If you are, then you may be closer than you think to the some of the best locations in the world. In Scotland, you can find stunning scenery to enjoy your riding holidays in. With such a large choice of destinations here, Scotland is the ideal place for an adventurous or a relaxing riding holiday.
Gilwaun Ranch, Aberdeenshire
This offers a unique horse riding holiday experience in Britain, with western style riding taking place here. You will be given an introduction to the style so you can get to grips with a different style of riding. You will be taken on an exciting trip with lunch and lasso lessons on the way. After dinner and good night's sleep, you set off again for the day.
Ledard Farm, Stirling
Take a riding holiday in Scotland's very first National Park. This is only 50 minutes from Glasgow airport and is based the shores of Loch Ard. There are plenty of facilities for horses to stay in comfort.
Argyll Trail Riding, Argyllshire
Enjoy the beautiful highlands on your horse riding holiday in Scotland. With sandy beaches, lochs, rivers and mountains, you will be spoilt for choice. There is a full week's trail ride that takes you right through the heart of the West Highlands for an unforgettable journey.
Articles