Advice on Horses For Loan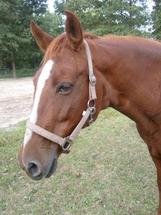 Learn about the benefits of horses for loan in this article. Considering a horses for loan share can be a sensible decision, as this guide explains.
If you're considering horses for loan, there are a number of factors you need to consider. If you don't have the time, finances or space to own a horse outright, opting for a horse for loan can be an excellent compromise. Learn more about the benefits of a horses for loan share in the guide below.
Choosing a Horse For Loan: 5 Top Tips
1. In the majority of horse for loan schemes, the person taking out the loan will have overall responsibility for the day-to-day care, exercise and welfare of the horse. Therefore, as the loanee, it will fall on you to carry out mucking out duties and ensure the horse remains in prime physical condition.
2. A written agreement is the most common method used to arrange a horse for loan share. However, before you agree to anything, it's important for both sides to have complete clarity over the terms of the loan arrangement. For instance, one moot point in any loan deal can be medical and veterinary costs incurred during the length of the loan. It's essential to discuss this issue at the earliest possible opportunity, as it could result in an unwanted legal dispute if left ambiguous.
3. If you are the person offering a horses for loan share, it's important to state in the agreement the amount of time and access the loanee is allowed to your horse, as this can again become a source of conflict if not determined at the initial agreement. For instance, you may want to have an opportunity to ride the horse at the weekends, and naturally a loanee may not react positively if they are not aware of this fact from the outset.
4. If you are keen to further your interest in horse riding, but harbour a couple of doubts as to whether you are ready to take full ownership of a horse, then it may be worth considering the option of horses and ponies for loan. It can be a great opportunity to learn the realities of owning a horse (such as mucking out, feeding etc) without the substantial financial commitment of full ownership.
5. Finally, there are other options you can consider aside from agreeing to a horse for loan deal. Remember, even though a loan arrangement will be far cheaper than full ownership, there are still significant costs involved. If you do not have the resources to loan a horse, you could always apply for voluntary work at riding schools and stables, where you can offer your services for free in exchange for the opportunity to gain some experience of looking after and riding horses.
Find horses for loan on Horsemart
Articles